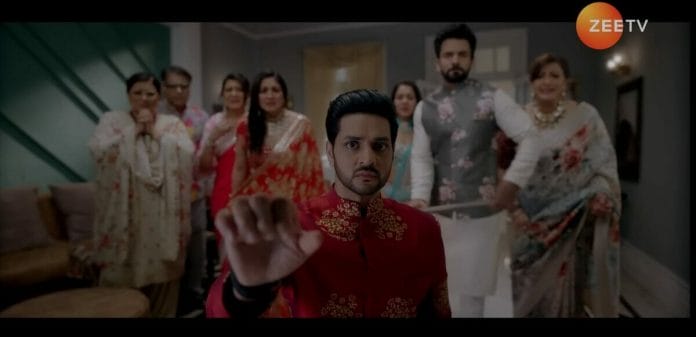 Kundali Bhagya Spoilers, Upcoming Story, Latest Gossip , Future Story, Latest News and Upcoming Twist on tellyexpress.com

Shraddha Arya and Shakti Arora starrer Kundali Bhagya is one of the top Zee TV show. It has been around for a long time now and it was an audience favorite at all times. Now, Arjun has to choose in between his revenge and Kavya's life so it will be interesting to watch that what going to happen in the future episodes.
Earlier it's seen that, Preeta informed Rishabh about Kavya. Beeji asked Arjun that how he knows Prithvi. Arjun told her that Prithvi approached him to become his business partner but he refused. Arjun slapped Prithvi for troubling Preeta after Karan's death.
Anjali asked Arjun that if he don't want to get his revenge. She said that he says he hate Preeta but his actions are totally opposite. Luthras found that Kavya is inside the safe locker. Rishabh went to get the key. Srishti told Arjun that she remembers Karan when talking to him.
In the upcoming episode, Arjun will thank Srishti for loving Karan so much. Srishti will requests him to not misunderstand Preeta. She will say that Preeta must be getting Karan's vibes from Arjun that's why Preeta acts like that. He will leave the room without saying anything.
She will ask Anjali to not love Arjun because she don't match him. She will say that Preeta and Arjun are perfect match. Anjali will scold her. Arjun will find key of safe locker when he learnt that Rishabh searching for it. Rishabh will try to open the safe locker but key gets broken.
Arjun will ask Anjali to not interfere in his personal life. Anjali will tell him that she is connected with his personal life. Prithvi will tell himself that Anjali love Arjun but Arjun moving towards Preeta. Arjun will spot Sherlyn. He will tell Anjali that he can't leave because Sherlyn and Prithvi are in the house and their intentions are not good.
Srishti will wonder that why Prithvi and Sherlyn returned. Preeta will ask Kavya to not get scared. Rishabh will leave the house to arrange key. Srishti and Arjun will join him. They will learn about Kavya.
How Srishti will react now? What Arjun will do now?
All these questions will be answered in the upcoming episodes.
To know what will happen next in your favorite show Kundali Bhagya, stay tuned to this space.