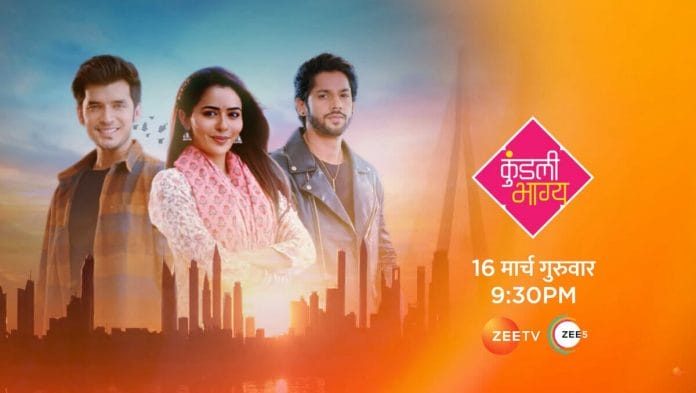 By Smita Pal| Zee TV's one of the most popular shows, Kundali Bhagya, has been keeping the audience hooked since 2017. Shraddha Arya, Dheeraj Dhoopar, and Manit Joura were cast to play the lead roles, and the audience loved the fresh pairing of Preeta and Karan (Shraddha and Dheeraj) and the siblings relationship between Karan and Rishab (Dheeraj and Manit).
Dheeraj Dhoopar quit Kundali Bhagya after working in it for five long years and was replaced by Shakti Arora, whose on-screen pairing with Shraddha, aka Preeta, was appreciated by the viewers.
After witnessing a lot of twists and turns, Kundali Bhagya is all set to take a 20-year generational leap. The makers have roped in actors for the new generations. Paras Kalnawat, Sana Sayyed, and Baseer Ali will now play the leads.
Zee TV has now dropped a new promo of Kundali Bhagya with the tagline "Nayein Rishte, Nayein Kahani".
Watch the promo here: https://www.youtube.com/watch?v=Uz-YVZmJhXI
The promo features Paras Kalnawat steps in as the doting son Rajveer Luthra, and the only thing that matters to him is his mother. He was also shown as a kind guy when he helped push an ambulance stuck in the mud.
Baseer Ali steps in as the spoilt son Shaurya Luthra; the only thing that is important to him is his father's money.
Sana Sayyad steps in as the generous girl Palki, who is revealed to be a doctor. Palki is a person who constantly raises her voice and refuses to accept any wrongdoing. She has a confrontation with Shaurya when he drives fast. She was impressed by Rajveer when she saw him assisting a person by pushing an ambulance that had been stuck in the mud.
The promo heavily hints at the love triangle between Rajveer, Shaurya, and Palki. And it is expected to provide additional drama for viewers in the forthcoming episode. It will be intriguing to see the upcoming twist in the show.
As Kundali Bhagya originally started as a tale of two brothers and a girl, the new promo offers a new beginning for the show.
But the question is, are the audience members interested in watching the revised version of what happened last time?
Let's wait and watch.