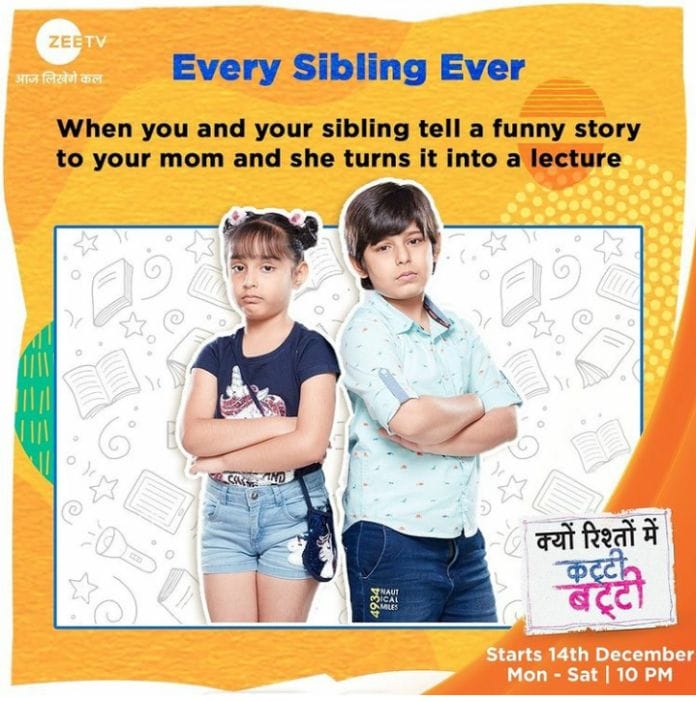 Kyun Rishton Mein Katti Batti 21st January 2021 Written Update on TellyExpress.com
Episode starts with Rishi and Roli rushing happily towards Shubhra and told her about all the fun they have at the office. Kuldeep admires them while they inform Shubhra about the view of the office along with what all games they have played there. Roli told Shubhra about having pizza and dancing along with the staffs. Shubhra gets happy as kids stated that they didn't even troubled anyone. Shubhra questions that if they thanked Samaira or not? To which they replied positively and goes towards their room to change.
Shubhra faces Kuldeep and thanked him for taking the kids along with him while he smiles. Later on he ask about Samaira while Shubhra acts to be unknown replying that don't know why today Samaira have slept early! Kuldeep nods and moves to check on Samaira.
Kuldeep happily enters his room and tries to wake Samaira up, He gets shocked seeing her face filled with blisters while Samaira screams seeing her face in the mirror. She keeps itching her skin while Kuldeep ask her to relax. She shouts at him saying her skin is burning. On the other side Shubhra along with kids and Phirki gazes towards Samaira's room.
Rishi and Roli looks at Shubhra suspecting her to be behind all the chaos while Shubhra nods her head making them chuckle.
Kuldeep comes downstairs with pillow and blanket and informed Shubhra about Samaira's allergy while she acts to get shocked. She says that she will check on her but Kuldeep stopped her saying that Samaira doesn't want to meet anyone. Shubhra offers to get food for Samaira but Kuldeep ask her not to. She starts her emotional drama showing her care towards Samaira while Kuldeep looks on.
Rishi and Roli sees Kuldeep and starts fighting with eachother for who will sleep with him. Kuldeep says that he is really tired and goes along with the kids to their room. Shubhra determines herself to win Kuldeep back.
In the morning Shubhra greets Kuldeep and ask him to do breakfast. He gazes at Samaira's door when Shubhra told him that his clothes have come after cleaning and so he can wear that, He nods to it. She explains his the benefits of having nutritious food made by her making him agreed to have her handmade food.
Rishi and Roli comes to play with Kuldeep but gets sad not finding him. Shubhra ask them to not disturb Kuldeep as he is having an important meeting while they nods.
Samaira screams from her room while everyone run towards her door and ask her to open it. Kuldeep bangs her door while Shubhra starts her melo-drama. Samaira says that she can't show her face to Kuldeep and opens the door only allowing Phirki and Shubhra to enter inside.
Shubhra and Phirki gets horrified seeing Samaira's face while she keeps itching her skin. She ask them to find her an outfit that she can wear to office which will not stick to her skin and will be soft that it won't itch her. Shubhra gives her nightwears while Samaira shouts at her for being foolish. Phirki and Shubhra keeps finding a dress for Samaira but she keeps rejecting each one of them.
Kuldeep ask about cancelling the meeting but Samaira stopped him and ask to go while he leaves from there.
Shubhra suggest Samaira to wear her saree but Samaira denies for it. Phirki helps Samaira to itch her skin. On the other side Roli says that she have to do something to stop Samaira from going to office. She goes inside the room and advice Samaira to wear "Burkha". Samaira gets happy and says that she can even hide her rashes through it. She orders Phirki to bring a burkha for her meanwhile gifts a perfume to Roli as a gift. Roli gets happy and goes from there while Shubhra keeps shouting her name.
Later on Shubhra gets guilty about Samaira's condition when she imagines Chandrani who ask her not to be guilty. She says that Samaira deserves it and ask Shubhra to concentrate on her mission as within 2-3 days Samaira will get fine. Shubhra smiles and thanked her. At that time Shubhra heard Samaira screaming Phirki's name and looks towards her room.
Click to read: