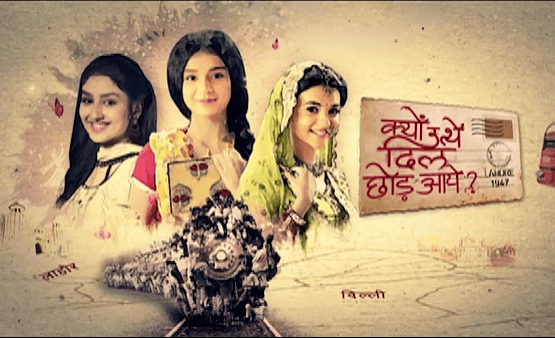 Kyun Utthe Dil Chhod Aaye 9th June 2021 Written Update on TellyExpress.com
Episode begins with Amrit crying and hurt because she let Randhir down. She comes to the room, Veer holds her and says you were so close to Randhir what was happening? You saved hom from getting blamed right? Veer says answer. Amrit says I saved you and not Randhir, Randhir planted the poison for you, your plan was coming after you, my mistake is that I supported the wrong person. Amrit says I should have let you be caught, but if you would have caught then the weak bond of you and Nalini would have broke and I didn't want that. Veer says if you really did it for me come with me. Veer drags her to the garden and throws a bucket of water on her. Veer says if you love me then why did you get all wet with Randhir and now come hug me and prove it. Amrit stays still and shivers. Veer then gives his coat to him and brings her inside. Amrit tells Veer how he can't buy love, he made her marry him forcefully but can't make her love him atleast in this life.
Uday brings Bhanu and Saroj to a big mansion which is close. Bhanu says why you got us here? Uday says Saroj aska Vashma where she was for the past 4 years well she lived here, the family went to another state now but I will make you meet them once they are here. One man passing by, greets Vashma and asks how she is. Uday gestures Vashma to pretend. She also greets him. Uday says I can make you meet a lady nearby too. Saroj says no need I have work at home. Saroj and Bhanu go. Vashma praises Uday. Uday tells Vashma now no one will question her.
Here, Randhir and Veer both think to take revenge from the other for one final time. Uday ans Veer go to backyard and start fighting. Kadam singh sees it and comes to tell Amrit. Amrit goes and stops them and in between she gets hurt in her hand. Both, Randhir and Veer get unconscious. Amrit calls servant to take them inside. Amrit does dressing of wounds of Veer. Veer murmurs in his unconscious state that he will kill Randhir. Amrit then thinks of helping Randhir. She thinks if her going to Randhir is right but when she learns from Kadam singh that Randhir is still unconscious, she goes to him with everything required for his dressing. She cries and cleans his wounds. Randhir murmurs why Amrit you did this to me? I always loved you, I wish I never met you. Amrit cries hearing all this and gets hurt. Amrit goes away.
Here, Vashma is making notes about the family of Bedi ji. Uday says why are you noting all this? Vashma says if Saroj ever asks me I should be clear or else she will get suspicious. Uday says I remember when I was with Bedi ji his kids would make me take them in lap and lift them up. Vashma cries thinking about Kabir. Uday calms her saying don't worry we will find him too. They hug. Vashma says I am scared that if Saroj gets to know the truth? Uday says don't think so negatively, I know you have gone through a lot but I will make everything okay for you now.
Veer sees Amrit entee and says you came from Randhir's room? Veer says that day I couldn't write my name on your hand but I will write your name on my hand. Amrir says stop this pagalpan. In the provess to stop Veer, Amrit comes in his way and she gets pushed by Veer. Veer says I wish someone loved me the same way, I wish I could get your love, I wish we both never met. Amrit ia surprised to hear it and remembers that Randhir said the same thing. Amrit remembers all the past incidents with Randhir and Veer both. Amrit feels hurt. Veer is drinking, while Amrit leaves. Amrit walks in an empty road, crying. She sees her hand covered with blood stains. She cries and thinks she is the one due to which all this is happening? She prays to god till when should I give exams of life. She cries.
Episode ends.
Precap: Amrit cries and prays to god when she saves a beggar.