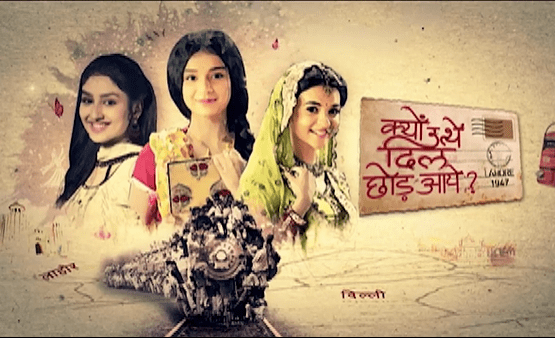 Kyun Utthe Dil Chhod Aaye 16th July 2021 Written Update on TellyExpress.com
Episode begins with Uday coming to Randhir and Amrit to give the prasad. He shows how sad he is regarding Vashma's health. Amrit tries to calm him. Randhir gets an idea and asks Chachi that Manan needed a hockey coach right. Randhir signs Chachi, Chachi says yes. Randhir asks Uday to coach. Uday says I can't focus. Amrit says you have to please. Uday agrees. Uday says I wish Amrit also could get happiness and Chachi says she will get too. Randhir asks how? Chachi says only Nalini will share.
Here, Nalini thinks about what Doctor said whereas Kaveri and Vijender think that Nalini will not let this marriage happen now. Next day, Uday asks a unconscious Vashma that get up and feed me sweet curd for my big day. But then seeing Vashma, Uday breaks down. Then he leaves.
Uday comes to mansion and finds Manan with hockey stick holding his leg. Manan says so you came to teach me hockey? Uday says hi to him. Manan is given milk and Uday is fascinated by the spontaneous reply of Manan. Uday asks Manan to do some warm up. Manan says Santu ji does everything for me. Uday stops Santu ji. Uday says you need medal so you wil have to do warm up. They spend light moments together. Manan says I have a request that you sit and close your eyes. Uday does. Manan says now say Manan you are the sweetest child. Uday remembers Vashma doing same thing. Then Uday starts teaching Manan hockey. Amrit sees them and is happy.
Nalini comes to Amrit and says I have decided that I have no issues with your and Randhir's marriage. Nalinj says give this as a token of blessing. Nalini opens the box and Amrit is shocked. Nalini says this is the coffin of Randhir's happiness that you will give Randhir. Amrit says what are you saying? Nalini says doctor said you can never become a mother, so you will destroy Randhir. Amrit is shocked. Nalini says I can give you acceptance for marriage but will you gift Randhir this?
Here, Kaveri and Vijender celebrate their success. Kaveri reveals how she mixed something in Amrit's food and then she bribed the doctor. Vijender says Randhir is stubborn he won't let Amrit go. Kaveri says I know, but when Amrit gets to know and Nalini asks her to go away without telling Randhir then there will be no marriage and then we will give same treatment as Veer to Randhir. Vijender praises Kaveri. Here, Nalini asks Amrit to hide this from Randhir and go away for Randhir. Amrit cries.
Amrit runs and go. Randhir tries to search for Amrit but the servant says I couldn't find her. Nalini comes and says shr went to temple. Randhir says how Amrit considers Nalini her real mother. Randhir requests Nalini. Nalini says I understand, give me sometime to think. Manan comes and takes Randhir to play hockey. Nalini says I am waiting for you to have a kid soon. Here, Randhir has run away from home. Naman has come to doctor and pays her and says don't you dare double cross me. Amrit comes to the doctor's clinic and Naman hides his face in cap. He goes unnoticed. Amrit asks doctor if it's true. Doctor makes Amrit sit. Doctor makes Amrit understand that when mansion got fire and you got a wound on stomach, that is the reason you can't bear a child. Amrit asks for another solution but Doctor says calm down there is no other way. Amrit goes. Amrit is shattered and remembers all her moments with Randhir. Amrit says this time I won't hide this from Randhir.
Episode ends.
Precap: Amrit decides to leave the house while Randhir proposes a marriage immediately to Amrit.
Click to read: