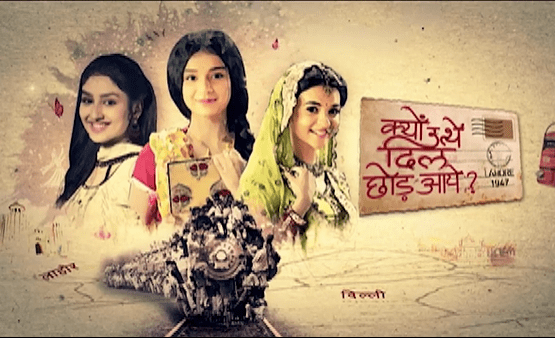 Kyun Utthe Dil Chhod Aaye 19th July 2021 Written Update on TellyExpress.com
The episode begins with Manak playing Randhir a goal post. Uday teaches hockey to Manak. Manak winks to Randhir. He wins. Amrit looks on. Manak says its your turn now. Randhir signs him. He catches the ball. Manak says we won, coach lost. Uday says I am your coach, its enough now, come for practice. Manak says I won, I will not practice now. Randhir says you should win sincerity, one who hurts someone's heart can't win, go and practice. Nalini comes and sees Amrit looking at Randhir. Uday says Randhir, you have much affection for kids. Randhir says yes, I will become the best father when I have my kids.
Amrit cries and goes. Nalini goes to her. She asks did you see, Randhir loves kids a lot, do you want him to long for kids. Randhir comes. Nalini says I was asking her what did she pray for me. She goes. Randhir says I m glad seeing mum happy. Amrit gets hurt. Randhir helps her. She says I m incomplete, I m not of any help now. He says until I m with you, you can never be incomplete, I will support you, we will support each other. She thinks you will never leave me, but I can't let your life stay incomplete. Randhir says come, we will write the speech. Kaveri looks on. She thinks there is something cooking, I will find out the matter.
Randhir takes Amrit to Nalini. She says we had to write a speech for you. Amrit says we have to lose something to get something in life, its the rule of nature, a farmer loves his land the most, but it needs water to make the land fertile, if the farmer doesn't give a sacrifice and get back, then how will a river form there, every land will get infertile if he doesn't make a river, its imp to sacrifice the present for the future, so that every farmer stays happy. Nalini says great, I m thankful for the speech. Randhir goes to type the speech. Kaveri hides. Vijender says I have hidden a telephone in Nalini's room, we can hear everything now. Kaveri takes the receiver. Nalini thanks Amrit. She says I know, it was tough for you, I will be always thankful. Amrit says I can't snatch Randhir's happiness, I want to go away from his life, I want your help.
Nalini asks how do you know that he will choose me instead you, are you fooling me. Amrit says I know him well, he will choose you, even if he loves me a lot, but his values will not let him get separated from you. Nalini says I m glad that you took the right decision, its Randhir's duty to take the family ahead, this throne will be given to Randhir and then his son, your step is for the betterment of this state. Amrit asks how shall I tell him that I can't marry him, will you help me in telling him the truth, he loves me a lot, I had to pay a big price of hiding the truth last time. Kaveri comes and says great plan to fool Nalini. She says Amrit knows that Randhir will marry her at any cost, she will win. Amrit says no, I didn't had this in my heart. Nalini says then you won't tell him the truth, prove it that you care for me and my family, promise me.
Kaveri asks Amrit to promise. Amrit says fine, I won't tell him. Nalini asks how will you convince Randhir to get away. Amrit says he will never go away, I have to go away from him. Nalini asks how. Its morning, Randhir comes to pray and sees Amrit praying. He recalls her words and looks at her. She apologizes to Randhir. He says don't know mum will agree or not. Amrit says I am sure to convince mum. He says I trust your faith. He prays that she wins in her attempts. Amrit says I have to make Randhir believe that I m not happy here, he will never leave his mum, then our distance will get more.
Amrit gives her bridal dress. She says I had worn this when I was marrying Randhir. She cries and says partition announcement was made, we had to run from the marriage, we have many memories with this dress. She recalls her marriage and cries. She says you call this trash and destroy it, I will pretend to fight with you and leave, Randhir can't stop me or come after me. Kaveri says I will do this work, Nalini can't do this, I will destroy this dress. Amrit cries.
Episode ends.
Precap: Amrit asks why did you tear this. Kaveri says I didn't know that its your parents' pic. Amrit argues with Nalini and asks her to apologize. Randhir looks on shocked.
Click to read: