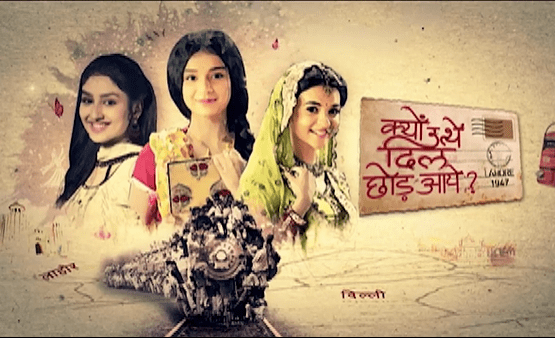 Kyun Utthe Dil Chhod Aaye 5th August 2021 Written Update on TellyExpress.com
Episode begins with Randhir checking Naman's room and thinking how did he get these costly items. Naman gets the mattress back. Randhir sees a pic in his hand. He thinks Kaveri's pic, who is this boy. He leaves. He says it was Naman's childhood pic, what was Kaveri doing in it. Amrit asks what pic. They go to Nalini. Mohan goes to Uday's house. He sees the lock. He gets Uday's note… you won't get Manak now. Bindu comes and says don't worry, Manak is in the palace, I asked the servant to lie to you, what are you hiding from me about my son, tell me, fine, talk when Uday comes, I will wait.
Mohan says no, I made a big mistake, Manak is Uday and Vashma's son, not our son. She says no and cries. Vijender says Nalini called the lawyer Pramod to make her new will, it states that Nalini disowns Randhir from her entire property, Randhir and Amrit have to leave the palace right away, Nalini won't have any relation with Randhir. Kaveri smiles. Vijender asks Nalini to sign it. Nalini signs. Kaveri asks Randhir and Amrit to leave. Randhir asks on what basis are you calling me a fraud, we don't want any money or this palace, we just want mum's love. Kaveri says don't do this drama here. Randhir says one week notice has to be given, right. Lawyer nods. Randhir says I will see who keeps me away from my mum. Kaveri says you have to leave.
Amrit says world changes in 7 days, either Randhir will leave or Nalini will tear the papers by changing her decision. She asks Nalini to have food. She says servant made the food. Kaveri says you have it without any tension. Servant serves the food. Amrit eats the cutlet. Kaveri says these cutlets are our speciality, we add raw papaya along with potato. Lawyer says its really tasty. Amrit worries and spits the cutlet. She says its really nice. She goes. Kaveri looks on. She thinks my doubt was right, Amrit is pregnant.
Bindu asks am I not Manak's mum. Mohan says no, you gave birth to a dead baby, a man was selling a new born at that time, I found him from a good family, I bought the baby, doctor said you can't conceive again, I accepted this baby, I wanted my son, I did what I felt right, I did this to save my reputation. He says you didn't think of Uday and Vashma, they were madly finding their son. Mohan says you can tell them, you will lose Manak forever, think well and decide. They cry.
Amrit says I was going to have raw papaya. Randhir asks what would have happened. Kaveri says it can abort the baby, my doubt was right, Amrit is pregnant. Vijender says Nalini doesn't care, I thought of something else, its Nalini's birthday tomorrow, but we will get the gift. Randhir asks what. He hugs Amrit and cries. Amrit says I will care for the baby, don't worry. He says I wish we could tell this to mum. Se says yes, I wish we could tell this tomorrow on her birthday, it would be best gift for her. He says its fine, everything will be fine after 7 days, Nalini will know Kaveri's truth, we have to find about Kaveri and that boy's relation, I will unveil this secret tomorrow. Amrit hears Bindu and goes to see. Bindu asks Manak to have food. Manak refuses. Bindu refuses. Manak says you are bad, I will leave this palace and go. Bindu hugs him and says don't say this, I can't live without you, forgive me. She cries. Amrit asks is everything fine, are you fine. Bindu says yes, Manak makes me cry. Amrit says I will feed Manak. She sees Manak and laughs. She says Vashma used to stand this way when she got angry. She asks Manak to have the food. Bindu gets sad. Amrit asks will you help in uniting Uday and Vashma with their child. Bindusays I will try.
Episode ends.
Precap:
Nalini gets the birthday surprise. Kaveri says they succeeded, we failed. Vijender says I added a drug in the cake, Amrit's baby will die once she eats it.