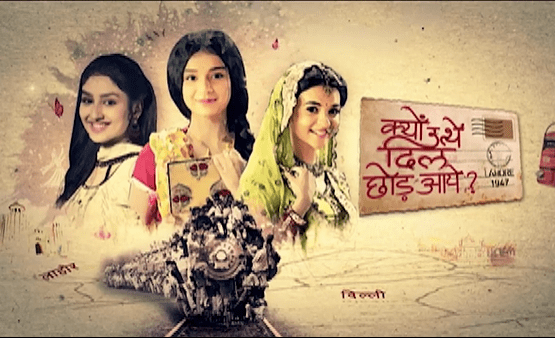 Kyun Utthe Dil Chhod Aaye 6th August 2021 Written Update on TellyExpress.com
Episode begins with Amrit and Randhir giving a surprise to Nalini on her birthday. She sees the guests and arrangements. She smiles. She stops and says I don't want to be a part of this. Amrit reads Veer's diary. Nalini stops. Amrit says Veer would have said this if he was here, celebrate your birthday with us. Kaveri gets angry. Uday comes in the way. Randhir says if Veer was alive today, he would have celebrated it this way, just dance a little for Veer's happiness. Randhir dances with Nalini. She sees Prem in him and smiles. She recalls everything about his lie. She gets away. Amrit gifts Nalini an idol of Bal Gopal. Kaveri signs Vijender. He nods.
Nalini says I wish all this was true. She asks the servant to keep the idol in the temple. Uday says a mother's heart melts soon, I m sure you will find the truth soon and come out of this problem. Randhir and Amrit nod. Kaveri comes to Vijender. She says they succeeded in celebrating Nalini's birthday, we couldn't do anything. Vijender asks her to see the cake. He says I have added a medicine in it, it will kill Amrit's baby, I knew they will celebrate Nalini's birthday. She says I wanted to know if Amrit is pregnant or not, you want to kill their innocent baby, I don't want to do this, I trust myself, I will think of some way to get Randhir and Amrit out of the palace. Vijender says you have sympathy for Amrit, Naman is like you, he has no courage to take a big step. She says I don't need to kill anyone, you can't think of anything else. He argues with her. He says forget all this and move on, Randhir and Amrit will break down when their baby dies. She says we have enmity with them, not the baby. He says don't lecture me, the cake is cut and distributed. Amrit takes the cake to eat it. Manak takes the plate from her hand. Kaveri gets relieved.

She says you aren't doing this right. She goes. Nalini thinks I wish Randhir was really my son. Randhir says mum will dance with me by her wish on her next birthday. She says I believe your belief, we have to prove our truth to her soon. He says I have a proof that will expose their truth. He goes to Naman's room. Bindu sees Uday and avoids him. Amrit asks did you talk to Mohan. Uday says I m trying to talk to you since long. Bindu sees Mohan and Manak. She says yes, I spoke to Mohan, he said he doesn't know anything, he wants Uday and Vashma to stay away from the palace. She goes. Mohan says its good you didn't tell them, no one can make our Manak away. Randhir says once Kaveri gets this pic, the truth will come out. He keeps the pic and runs.
She thinks I m fed up of Naman's foolishness, its good no one else got this pic. She goes to Naman. Randhir thinks the secret will come out. He signs Amrit. The party chief congratulates Amrit for her articles on women strength. He says I want this thinking to spread more, can you write a play for me. Vijender asks Nalini to stop Amrit. Nalini says I don't think Amrit will write any disgusting play or drama. The man says its not disgusting, people's thinking change through plays, Amrit is very talented. Nalini says that's right, but why just Amrit. The man praises Amrit. He says I will wait for Amrit's reply. Amrit nods. Naman asks why did you get me here. Kaveri says I got this pic outside your room, how can you be careless. Naman says I will keep it safe. She says I will tear it. He says what are you doing, let me keep the pic, its our only pic. She stops. Randhir hears this and says Naman is Kaveri's son. He gets shocked.
The man says Nalini is lucky to get such good son and bahu. Amrit says I know its not easy to change people's thinking but I will not leave showing courage and working hard. Nalini says just 6 days for you to leave, I don't care whatever you do. Uday asks Amrit to come with him. Kaveri tears the pic. Naman says you don't care for my emotions. She says this pic is imp to me also, it was the last pic of your childhood, I had to tear this, if anyone got this, then our plans would have failed, we have to make little sacrifices for something big, I want to tell everyone that you are my son, I can't do this, I m waiting for the day when you sit on the throne, I will do the tilak and tell everyone that you are my son. Naman asks when will that day come, I m struggling, I m fed up listening to this, I don't want such a throne that I don't get my parents love, I can't call you my mum, dad is in front of me but I can't call him my dad. Randhir thinks. He says even after Veer's death…Kaveri stops him and asks him not to say it. Randhir thinks Kaveri is stopping him from saying the secret. Naman goes.
Episode ends.
Precap:
Amrit asks what was Naman going to say, did they make Veer sick. Randhir says I know Naman is your son, tell me what do you know about Veer's death, who are you saving. Kaveri cries. Vijender looks on worried.