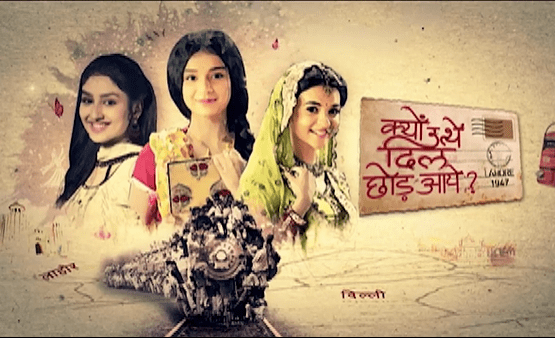 Kyun Utthe Dil Chhod Aaye 9th August 2021 Written Update on TellyExpress.com
Episode begins with Uday warding off Amrit's bad sight. He says Tai ji came in my dream, she was worried for you, so I came here to ward off the bad sight. She says I saw Brij in my dream, he asked me to give you much love, he is proud of you that you are handling so much sorrow and living your life. He says don't lie. She says I also know that mum didn't come in your dream. He smiles and hugs her. She asks do you think elders will be seeing us. He says don't know, but their blessing is always with us. She says I wish they were here to meet little Randhir and little Kabir. He asks did Bindu say something. She says no, Bindu didn't tell anything about Mohan, we will pray that Vashma gets fine. He says yes, take care, don't worry for anything. He blesses her and goes. Randhir comes and says I have to tell you something. Bindu says we have no way than sending Manak to the hostel. Mohan says truth will come out any way.
Bindu says my sister's son stays in London, I will send Manak there, no one can meet him. He asks can you stay without him. She says we have to keep him away from us for some years, we kept his mum away from him, we snatched him from his mum, we should get punished. He says fine, as you find right, I will prepare to send Manak to hostel. Manak comes and hears this. Amrit asks what. Randhir says yes, Naman is Kaveri's son, so they worry for each other. Amrit says why doesn't anyone know about this. He says Naman's dad is also alive, Vijender got him here as the bodyguard, I will go and ask him. Amrit says stop, its about Kaveri's respect, we can't tell everything to Vijender, we should go and talk to her. He says amazing, Kaveri did wrong with you, you are worrying for her respect. She says I m also a woman. He says Kaveri is dangerous, she stopped Naman from telling about Veer's death. She asks what was he going to say, did they give the medicines to Veer, that fire was lit or someone ignited it, we have to find out.
Manak comes and says I don't want to go anywhere, I want to stay here. Amrit asks Bindu why are you sending Manak to the hostel. Bindu says he is getting spoilt here, he will go to hostel and learn some manners, I have to send him away if I have to keep with me always. She takes him. Manak asks Amrit to save him. Randhir asks what happened to her. Amrit says she never got angry on him before. Nalini gives a box to the servant. She says I used to give a gift to my son on my birthday, now I don't have any son, you keep this. She goes. Randhir and Amrit get sad. Servant says no one can snatch anything from you, these gifts, this status, palace and Nalini's love is yours, but time isn't yours, this time will change, everything will be fine, you are like Veer for me, keep this gift. Randhir thanks him. Amrit says everything will be fine. He says just 6 days left. She says Nalini will accept you. Naman drinks and gets sad. Nalini calls him and asks him to get the car, they have to go for the meeting. He says fine, your son left, but you miss him a lot, does everyone love their child, right. She scolds him for getting drunk and coming. She asks him to leave. Everyone comes.
Nalini says you can't protect me if you can't protect yourself, I m firing you from the job. Amrit says you can't fire him from job. Nalini asks who asked you to talk. She asks Vijender to throw Naman out of the palace. Randhir says you can't do this against my wish, six days are still left, we have all the rights, we will decide who will stay here, I don't want you to fire him for his small mistake, I will drop Naman to his room. He takes Naman. Kaveri says why are they saving Naman, they could have ousted him easily. Vijender says Naman is drunk, he may tell them something, he is useless. Amrit comes and asks who is useless. He says Naman is useless, who gets drunk on duty, I should oust him. Amrit says who all will you oust, he is also like family now, it doesn't look good to oust him. She goes to see Naman. Randhir asks why are you upset with mum. Naman says mum can't do anything, my dad is really mean. Randhir asks who is your dad, tell me, I will talk to him. Naman says his name is… Vijender comes and says Randhir, you didn't do good by stopping him. Randhir says let it be, I m seeing him drunk for the first time, we can't fire him from the job. Vijender says he fell asleep, we will talk to him when he wakes up.
Randhir and Amrit leave. Vijender cares for Naman. Amrit says Naman could have told us something more if Vijender came late. Randhir says just one way is left now. Kaveri goes to see Naman. Randhir holds her. He says I know Naman is your son, so I didn't let Naman leave the palace. Amrit says we didn't come here to threaten you, we won't tell this secret to Nalini, I know when a widow isn't accepted, how would anyone accept an unwedded mum, we don't think it was wrong. He says yes, we have sympathy for you, you can't even call your son as your son here, we have no complains with you, you are our family, I stayed away from you for 25 years, but Veer was here, you raised him as your son, but I know his death wasn't an accident, I know you can't be a part of his murder conspiracy, why did you hide his post mortem report, are you saving Naman's dad, is he behind all this. Kaveri cries and says I can't tell anything, I wasn't behind Veer's death, I didn't wish him to die. Amrit asks who killed him. Randhir asks who are you saving, who is responsible for Veer's death.
Episode ends.
Precap:
Amrit says if you don't answer us, then we have to tell Nalini about Naman and you, you have 24 hours to think. Uday gets Manak to Bindu. She slaps him and says he is my son, not yours. Randhir and Amrit look on.
Click to read