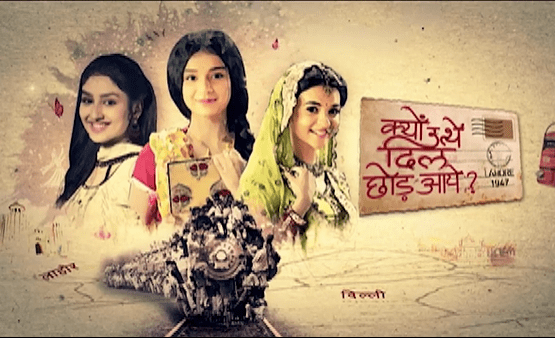 Kyun Utthe Dil Chhod Aaye 9th July 2021 Written Update on TellyExpress.com
The episode begins with Randhir saying I hope that mum will understand us and hug us. Amrit asks do you think she will do this. Randhir says yes, she will surely do this. Nalini says I m going to meet them at the temple. Vijender asks will you forgive them for supporting Vashma. Nalini says sometimes we also make mistakes, we should bring them to right path, not leave them. Kaveri says I will come along with you. Nalini says I will wait in the car, come. She goes. Kaveri argues with Vijender. She says its about time, we should play the right move at the right time. She tells the plan. He says great.
Vashma does her work. Manav comes there to get sweets. He asks for sweets. She asks him to request for sweets. He says I don't know requesting, I just command. She asks him to smile and talk. He asks her for sweets. She gives him sweets. She says Uday used to play hockey since childhood. She hugs him. He takes the sweets box from her. She sees some mark on his forehead. She recalls her son Kabir. She sees Sumer again. She thinks what is he doing with Mohan, he had stolen my son. Randhir and Amrit are on the way. Randhir says Nalini will surely come. Kaveri thinks Naman should do what work I told him. She asks Nalini to keep patience. She thinks Naman would have sent goons to Randhir and Amrit. The goons stop Randhir on the way. Naman signs them to catch Amrit. The goons catch Amrit. Amrit shouts for help. Goons beat up Randhir. Amrit runs into the jungle. The goons try to misbehave. She slaps the man. Randhir beats the men. He hears Amrit shouting. He looks for her. The man pours water on Amrit. Randhir comes and beats the men. Naman looks on from far.
Sumer says Manav has reached the palace, I want money before I go. Mohan says take the money, don't show your money here, you shouldn't tell anyone that Manav isn't my son, you have stolen him from a woman and given him to me. Vashma gets shocked. She says it means this man has sold the baby to Mohan, Mohan and Bindu bought my Kabir. Mohan says get lost, we don't know each other from now. Vashma says it means Manav is my son, my Kabir. She smiles. She says that's why he had this mark on his head. She leaves. Mohan thinks did Vashma hear everything, if anyone knows that Manav isn't a royal blood, no, I have to stop her. She says I will give this good news to Uday first. She calls the neighbor and asks him to call Uday. Uday takes the call. He says I have to give a good news, we won the match, I got a good medal for you, come home. Vashma says I have a bigger news, you will get mad. He asks what is it. She says our son, our Kabir, I found him, Sumer sold him to Mohan, Manav is our Kabir. Uday doesn't hear her. Mohan cuts the telephone wire. He says talk to me.
Kaveri sees Randhir's call. She says that's Randhir's car, we shall go and see. They go to see. Naman signs Kaveri. They see Randhir with Amrit. Nalini gets angry. Kaveri creates a drama. She says I told you that this girl is trapping Randhir, I had doubted on her character. She says Randhir is her Devar. Nalini says Randhir, you both should be ashamed. Randhir says you are misunderstanding. Kaveri says we have seen your car there and came here, else we would have not known anything. Randhir says goons stopped our car, they tried to molest Amrit. Nalini scolds Amrit for trapping Randhir. He says give me a chance to explain, goons attacked us. Kaveri asks where are the goons, we can't see anyone, you are making a story, you got caught red-handed. Randhir asks what did you see here. Kaveri says look at her state, leave it, what shall I say now, that's why you were having a relation of pain with her.
Amrit says stop it Bua ji, you are saying a lot without knowing the truth. Nalini asks what's the truth. Randhir says truth is… Kaveri says truth is, this girl is characterless and greedy, she wants the money and luxury. Randhir says stop it, before I forget you are my dad's sister. He says yes, Amrit and I have a relation of births. He holds Amrit's hand. He says our relation have no dirt, its pure like Gangajal, I know Amrit since we stayed in Lahore, I loved her, we had got engaged, we were going to get married, but the partition separated us. Nalini gets shocked.
Episode ends.
Precap:
Mohan runs after Vashma. She writes a letter. Amrit says Randhir and I love each other. Randhir says I want to marry Amrit.
Click to read: