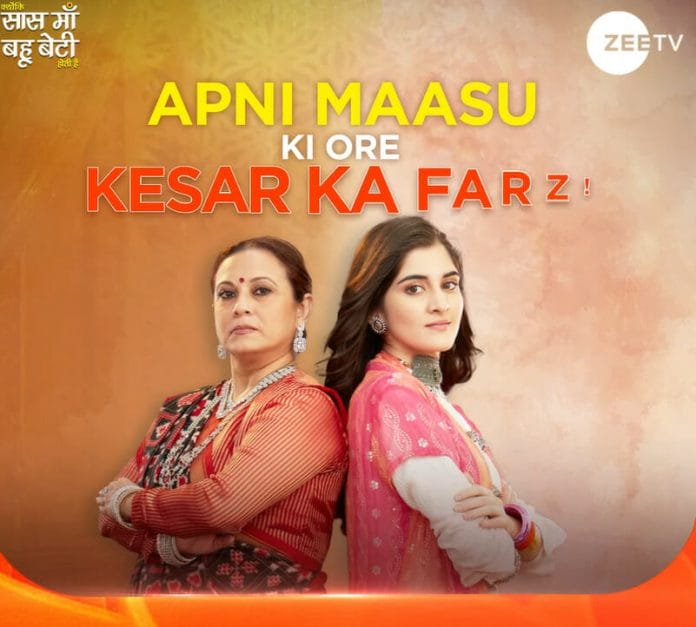 Kyunki Saas Maa Bahu Beti Hoti Hai 10th November 2023 Written Update on TellyExpress.com
The episode starts with Queen saying to Kesar that Kabir is the one who took the contract of her kidnapping. Kesar doesn't believe Queen's words and says she will call the police. Queen asks Kesar to make Kabir swear on her and tell her that he didn't take the contract for kidnapping her. Kesar asks Kabir to swear on her and prove Queen wrong. Kabir admits to Kesar that he took the contract. Kesar asks Kabir why did he do this? Kabir says Queen gave an open contract and if he didn't take the contract then someone would have taken the contract to kidnap her. Kabir says he only took the contract to keep an eye on her. Kesar comments on Kabir and calls the police.
Hetal says to Rajgaur family that commissioner called her and says they found Kesar.
Shakuntala comes to Suraj and provokes Suraj saying it's a good thing that they found Kesar but he needs to marry Kesar no matter what she has done as he has to fulfill Ambica's Sankalp.
The police come and take Queen and her henchmen away. Kabir breaks down on the spot.
Ambica and Kesar come to Rajgaur Mansion. Suraj says to Ambica that he always put her words above everyone else but today Kesar made a mistake that breaks her Sankalp.
Suraj questions Kesar how did Queen's men kidnap her even with all of this security and ask Kesar how did Kabir know that she was kidnapped and she was in the jungle. Kesar thinks if she told the truth about Kabir then Kabir will get into trouble and if she doesn't tell the truth then Suraj will suspect her. Kesar stays in a dilemma.
Kesar says to Suraj that she doesn't know what happened as when she regained consciousness she was already in the jungle. Suraj comments on Kesar and says she gave a very convenient reply.
Suraj reminds Kesar of her situation if Ambica hasn't adopted her. Suraj asks Ansh,Ridhi and Darshan to go inside. Suraj says to Kesar that if she wants to become this house daughter in law then she needs to prove her innocence by taking medical test.
Ambica slaps Suraj after hearing this and admonishes Suraj's behaviour. Suraj asks Ambica if she hit him for Kesar who ruined their family reputataion. Ambica says he ruined their family reputation by questioning Kesar's character. Suraj comments on Kesar.
Suraj asks Kesar if she will take the medical test. Kesar comments on Suraj and says she will not take the medical test.
Kesar admonishes Suraj's behaviour of questioning a woman's character. All the ladies of Rajgaur mansion take Kesar's side. Kesar asks Suraj what is the proof that he will not ask her again about this medical test and comments on him.
Episode ends.
Also See: