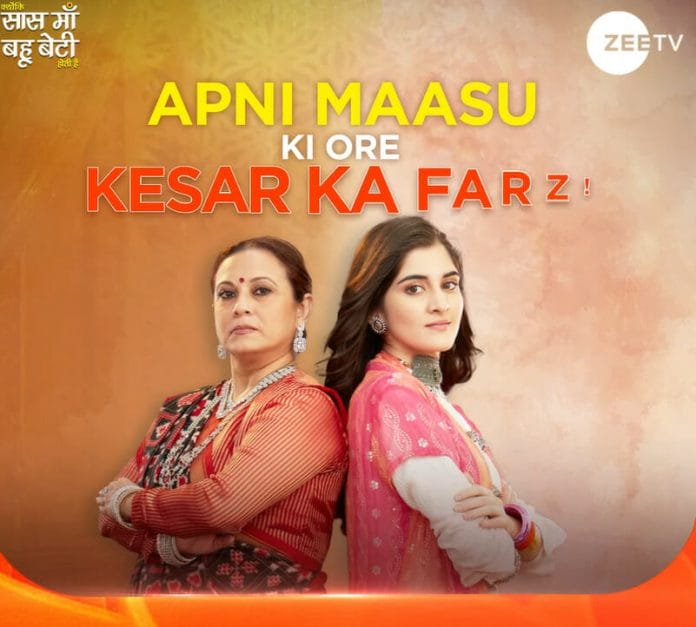 Kyunki Saas Maa Bahu Beti Hoti Hai 11th November 2023 Written Update on TellyExpress.com
The episode starts with Kesar commenting on Suraj's behaviour. Kesar asks Suraj if she should have to always live with the fear that her husband will always ask her for her character certificate. Kesar asks Suraj how will he feel if Ridhi's husband asks her for Ridhi's character certificate. Suraj shouts at Kesar.
Kabir comes to Macchan and asks the doctor how is his friend. The doctor says Macchan went into a coma. Kabir asks the doctor to save Macchan no matter what. The doctor says that they need to keep Macchan alive using the machine. The doctor says to Kabir that they need to pay a lot of money for it. Kabir agrees. Jugni asks Kabir where will he get that much money. Kabir says he is going to rob the bank and says to Jugni they have no other choice besides this.
Suraj says to Kesar that her sisters will never do that kind of thing. Kesar says to Suraj what happened in the forest from when she regained consciousness. Kesar also calls Kabir and asks Kabir to tell everyone what happened in the jungle. Kabir understands Suraj is questioning Kesar. Kabir comments on Suraj's behaviour. Kabir later tells what happened in the jungle and how he saved Kesar. Kabir later cuts the call.
Suraj apologises to Kesar and tries to explain to Kesar that he is afraid of losing her that's why he suspected her.
Kesar doesn't listen to Suraj goes to her room and locks her room. Kesar recalls what happened and breaks on the spot.
Suraj recalls what happened and decides to take revenge on Kesar as Ambica slapped him for the first time.
Kabir and Jugni plan how to rob a bank. They see a police officer saying to a pocket thief that he will be in jail for 5 years as he robbed a purse. Jugni hearing this worried about their situation. The inspector suspects Kabir and Jugni and tries to go to them but they run away from there.
Jayathi and Hetal say to Kesar that it was their mistake and says they planted seeds of suspicion in Suraj's mind. The servant comes and says to Kesar that Suraj is doing something in the hall.
Suraj stands on burning charcoal in the hall. Ambica and the rest of the Rajgaur family ask Suraj to get down from the burning charcoal as it will burn his feet. Suraj stops them and apologises to Kesar for suspecting her character. Suraj says to Kesar that he is doing this to wipe away his sin of suspecting her. Hetal asks Kesar to ask Suraj to get down. Suraj stays silent.
Episode ends.
Also See: