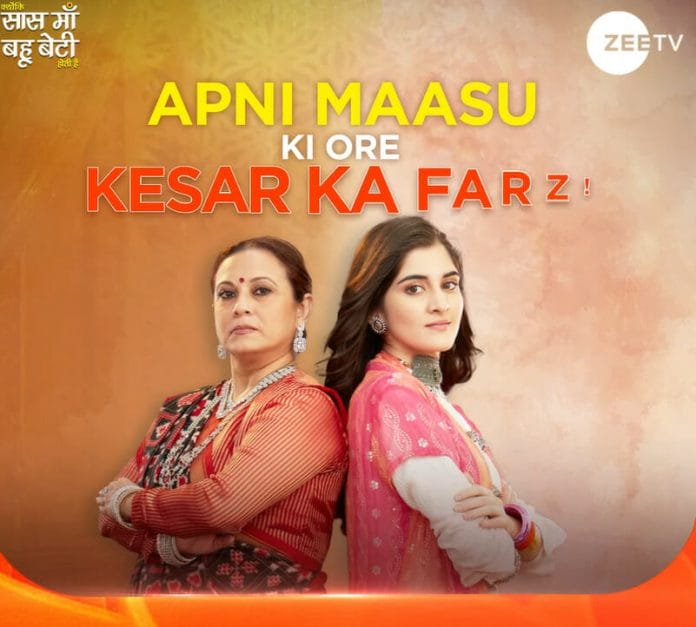 Kyunki Saas Maa Bahu Beti Hoti Hai 15th November 2023 Written Update on TellyExpress.com
The episode starts with Suraj asking Kesar why can't she forgive him. Suraj also asks Kesar if she really wants to marry her or not? Kesar says to Suraj that marriage is more important than a partnership and says for that they need to treat each other as equal partners. Kesar asks Suraj to think about it. Leela asks Kesar to do the Pooja and takes her away. Suraj gets angry with Kesar's decision.
Aarthi says to Kabir that Moksh is troubling her as she is asking Moksh to marry her at the first auspicious date but Moksh isn't agreeing to it. Shakuntala asks Kabir if he understood how much Aarthi wants to do this marriage.
Dhruvi and Darshan request Kesar to take a break from her work. Kesar says she has to do important work. Dhruvi and Darshan hearing this leave from there. Suraj comes and asks Kesar what is she working on? Kesar says to Suraj she will tell him when the time is right. Suraj dreams of himself lashing out at Kesar and hurting her. Suraj later comes out of his daydream and leaves from there.
Suraj comes to Ambica and shares his concern with Ambica about losing Kesar saying he is worried Kesar might say no to marriage with him.
Moksh and Aarthi are about to do the ring ceremony. The engagement ring falls on the floor and rolls over to Kiran. Moksh goes to get the ring. Kiran switches with Moksh and puts the ring on Aarthi's hand.
Kabir gets a call from the hospital that they are taking Macchan off the ventilator support as he didn't pay the bill. Kabir hearing this comes to the hospital and says to the doctor that he will kill him if the doctor takes Macchan off the ventilator. The doctor says to Kabir they are just following the administration orders. Kabir asks the doctor to give him 3 days time for him to pay the bill if not they can take his life. An organ trafficker is shown to be eavesdropping on Kabir's conversation with the doctor.
Kabir thinks everything is going out of his hand and dreams of Kesar. Kabir later realises he is just dreaming of Kesar.
An organ trafficker pulls Kabir to a side and offers him a deal saying he will give him Rs 45 lakhs if he sells his kidney to them. The organ trafficker asks Kabir to come to the location if he agrees to the deal.
Kesar comes to Ambica and Leela and says to them about her plan saying she would like to do diamonds in a lab. Suraj tries to make Kesar give up her idea pointing out a few problems but Kesar reasons with Suraj and says she has already thought of them. Ambica praises Kesar. Suraj says he wishes she will succeed in business and also hopes that she will complete Ambica's Sankalp. Suraj says to Kesar about the date after a week and asks Kesar if she will marry him. Kesar says no. Leela asks Kesar if she is saying no to marriage with Suraj. Kesar says she will marry Suraj but not after a week.
second part
Jayathi asks Kesar that if she doesn't have any problem with marrying Suraj why can't they get marry right away? Leela also says they have to answer to the people in the society about their marriage. Ambica announces to her family that Kesar will only marry Suraj after she is completely ready. Ambica says to Suraj that Kesar will not be able to completely commit to the marriage if she is having second thoughts about their relationship. Suraj hearing this says if marriage isn't going to happen then there is no use of wedding cards and burns them.
Kiran sees Aarthi dancing and has a nightmare of her getting hurt and blood coming out so he says to Aarthi that from today onwards she is not going to dance. Shakuntala also supports Kiran in his decision. Aarthi feels heart broken hearing this.
Suraj gives his word to Kesar that he will always support her no matter what. Kesar thanks Suraj. Kesar sets up her new office in the house. Ambica wishes her all the best.
Episode ends.
Also See: