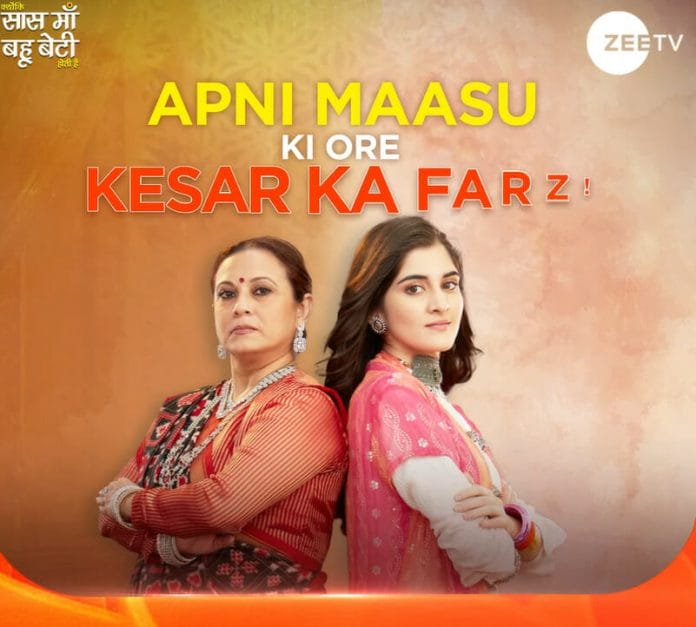 Kyunki Saas Maa Bahu Beti Hoti Hai 19th November 2023 Written Update on TellyExpress.com
The episode starts with Jinal learning that Ridhi hasn't gone to college and worries about her. Kesar asks Jinal what happened. Jinal says to Kesar she is worried about Ridhi. Jinal also says to Kesar what happened with Ridhi in the past. Kesar says to Jinal that they should tell Ambica about it. Jinal says they should first find out what kind of problem Ridhi has gotten herself into. Kesar says she will go searching for Ridhi. Jinal says she has to stay here as she has to take the diamond cutting machines. Kesar says family is always her first priority. Kesar and Jinal go in search of Ridhi.
Leela and Ambica talk about Kesar on how she got back the family together. Hetal comes to Ambica and Leela. Hetal says she designed uniform for Kesar's working staff. Hetal asks them to look at it. Leela praises Hetal seeing the gift that she prepared for Kesar.
Kesar and Jinal track Ridhi's phone location and they find her in a dizzy state taking drugs along with her friends. Kesar and Jinal take Ridhi away from there.
Aarthi dreams of expressing her feelings to Ansh but Moksh comes and beats up Ansh. Aarthi wakes up from her nightmare. Aarthi thinks Moksh will make her dream come true if she doesn't keep Ansh at a distance. Aarthi blocks Ansh in her social media.
Kesar and Jinal bring Ridhi to the Rajgaur mansion. Parin searches for Ridhi. Kesar sprinkles water on Ridhi's face and wakes her up. Parin comes to Kesar's room and asks Kesar what happened to Ridhi. Kesar makes up a reason for Ridhi and says Ridhi is having cramps. Parin hearing this leaves from there. Jinal asks Kesar to go and wait for the delivery of the machine. Kesar agrees.
Ansh comes to Aarthi and asks Aarthi why did she block him in the social media. Aarthi asks Ansh to stay away from her. Ansh asks Aarthi why is she behaving like this. Aarthi slaps Ansh. Aarthi looks at Moksh. Ansh also understands Aarthi was forced to slap her as Moksh is keeping an eye on her. Ansh thinks he has to figure out another way to help Kesar.
Kesar learns that the diamond cutting machine is held at customs and she says to the Rajgaur family about it. Suraj offfers to help Kesar saying he has contact at the customs. Kesar says she has to do this alone. Kesar goes to the customs office.
Kesar tries to talk to the officers in the customs but nobody listens to her. Kabir runs into Kesar. Kesar doesn't notice Kabir and leaves from there. Kabir recalls Suraj has given him an envelope to give it to one of the officers. Kabir recalls he created another hurdle for Kesar.
Kesar fails in trying to talk to the custom officers about her diamond cutting machines.
Kesar returns home. Suraj sees Kesar and thinks she return empty handed but she brings her diamond cutting machine home. Suraj asks Kesar if she told everyone that she is fiancé of Suraj Rajgaur. Kesar says no. Kesar later says to Ambica how she met Sonam at the custom's office and it is the same Sonam who Kesar helped last time.
Kesar with the help of Sonam brings back her diamond cutting machine home.
Suraj punches the punching bag in frustration. Kabir says to Suraj that no matter how many plans he makes Kesar will always win as Godess Ambe ma is with Kesar. Suraj comments on Kabir as Suraj sent Kabir to destroy Kesar's dream but instead she helped Kesar. It is shown Kabir calls Sonam for help seeing Sonam's name as one of the customs officer and asks Sonam for a favour.
Suraj comments on Kabir and Kesar's relationship. Kabir shouts at Suraj. Suraj dares Kabir to punch him. Kesar and the rest of the family come to Kabir and Suraj. Kesar sees Kabir raising his hand at Suraj and comments on him. Kesar asks Kabir to leave from here and never come back. Kabir says he will leave after revealing the truth about Suraj. Kabir dreams of revealing the truth but later comes out of his daydream. Suraj indirectly threatens Kabir showing Macchan's video. Kabir seeing this says to Kesar that he is jealous of Suraj as he is born with a golden spoon. Kesar comments on Kabir and asks Kabir to never come back into this house ever again. Kabir leaves from there.
Aarthi says to Shakuntala that she doesn't want to do this Haldi ceremony. Shakuntala asks Aarthi to shut up. Kabir video calls Shakuntala and says to Shakuntala about leaving his job. Shakuntala scolds Kabir and asks Kabir to first get a job then he can come and meet Aarthi. Kabir feels helpless with the situation.
Kabir gets a call from Jugni and he goes to the hospital and finds Macchan isn't in his bed. Kabir thinks Macchan is dead. Suraj sees Kabir and taunts him. Kabir raises his hand at Suraj but Suraj says to Kabir that Macchan has just changed his room and nothing more than that. Suraj asks Kabir to come to Rajgaur mansion and get to work. Suraj says to Kabir that if he doesn't follow his orders Macchan's life might be in danger.
Episode ends.
Also See: