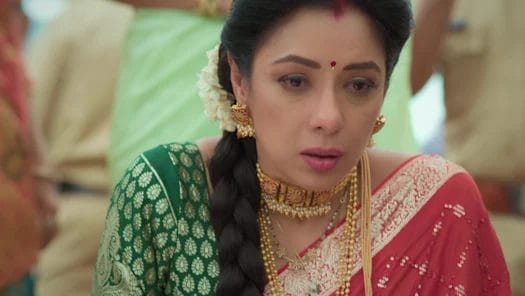 Anupama Upcoming Story, Spoilers, Latest Gossip , Future Story, Latest News and Upcoming Twist on TellyExpress.com
Drama to galore in Anupama post Anupama will bring Dimple to Kapadia Mansion.
In today's episode, Inspector tells to Dimpi that her case can run for long. Dimpi asks Nirmit if he has informed to his parents or not. Nirmit feels ashamed. He says how he can tell his parents what all happened with Dimpi. Anuj asks Nirmit to support Dimpi. Nirmit sit confused
Samar shows Shahs the news about Anuj, Anupama helping Dimple and Nirmit. Kavya, Vanraj and Hasmuk gets disgusted. Leela worries for Anuj, Anupama. Paritosh makes Leela understand that Dimple and Nirmit are strangers and what if someone known has went through the same. Hasmuk says life in unpredictable. Samar prays for Dimpi's braveness and Anupama, Anuj's courage
Vanraj, Leela discuss about sexual assault. Samar says the incident will haunt Dimple whole life. Adhik confront Pakhi about ordering expensive AC. Pakhi tries to calm Adhik. Shahs worry post Pakhi orders AC. Leela says if same continues Adhik will leave Pakhi one day.
Elsewhere, Anupama, Anuj gives shelter to Dimple and Nirmit.
In the upcoming episode, Nirmit will escape the house. Anupama will urge Nirmit to support Dimple. Nirmit will get adamant. Dimple will ask Anupama to let go Nirmit. She will break her ties with Nirmit. Afterwards Anuj, Anupama will get threaten to withdraw the case. Leela will alert Anupama too. Anupama will decide to support Dimple at any cost. She will be troubled by hooligans. Will Anuj recuse Anupama on time or there will be more drama? Time will only tell.
Follow us for TV serial news and updates