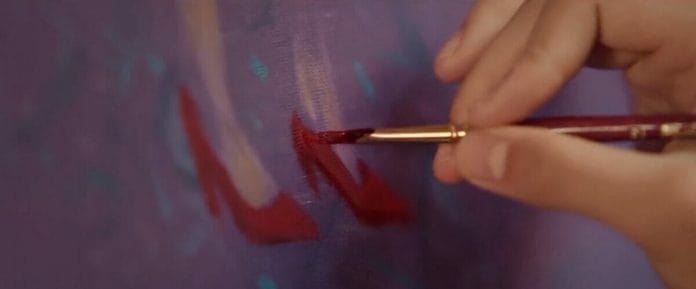 The episode starts with In Joo shocked knowing that Hwa Young lived such a luxurious life on her name. She wants to go directly to Singapore to investigate about it but Do Il says she would raise suspicion if she does so. He suggests her to wait till Hyo Rin's mother asks herself to go Singapore with her. He says that Director Shin and Hwa Young were her money launderer when they were alive and now that she took over their place she would send her Singapore for the same. At the same time In Kyung and Jung Ho comes there ij car and Jung Ho identifies Do Il as popular money launderer. In Kyung asks thought that her sister is a again dating the wrong person and interrupts their conversation. She highlights about get sister's divorce only for Do Il to say that he was aware of it. Once he left In Joo tells In Kyung about getting hired by Hyo Rin's mother. In Kyung was against it but In Joo wanted to do it for In Hee's safety to be near her.
Next day she met with Hyo Rin's mother who gave her instructions about Hyo Rin's health and how she would be needed to even stay with Hyo Rin at times. She went to meet Hyo Rin with In Joo. At the mansion Hyu Rin is with In Hye and Hyu Rin's mother left for Singapore. Hyo Rin's condition worsens but her father paid least care for it and is instead surprised seeing In Joo. He calls her to his cabin and asks about Hyo Rin's mother. She tells that she's in Singapore for a department store opening and he immediately collected pictures of the same. Hey asks Do Il to bring her back by the next day. Hyo Rin felt quite relieved around In Joo and In Hye while In Joo feels bad for Hyo Rin.
In Joo gets frustrated over the psychotic family while Do Il explains her their next plan of using the ledger for them to court the money. They hide themselves from camera but was unaware that they were getting recorded from the mirror. The plan their next move. In Hye is looking at the doll house when In Joo comes there. She says In Hye that she has a plan in her mind regarding their life and shows her pictures of the properties on her name. She says In Kyung wouldn't accompany them but she can as the places are artistic for her painting inspiration. In Hye turned down the offer and left the place. At night, In Joo is sleeping in Hyo Rin's room when In Hye sneaks in and takes out Hyo Rin. They were present at Blue Orchid's Garden while In Hye is working on her painting of Hyo Rin's mother. Hyo Rin reveals about her unfortunate life with her parents and how she would hurt herself to stop them fighting. In Hye says having sisters is no different.
In Kyung comes to her grandmother's office where her grandmother introduces her as the new Director shocking In Kyung herself. When asked about it she said that she wants her to take over her company as she's getting old. In Kyung is against it but great aunt remembered her about her promise while she begged money for In Hye's treatment. She had no option but to oblige. Soo Im showed Do Il the CCTV clip of him and In Joo a while back and accused hii of being partner with her. But Do Il changed the story saying that they were having a fling. In Kyung is checking the files when she realizes that the company's situation is not so good. She told Grandmother about it but she already had things planned for the next 20 years and it's just a temporary set back.
Won Sang Ah came back home only to find a furious Park Jae Sang waiting for her. He asks her about her reason for trip and she kept lying that it was for shopping and dating but he didn't believe her and rummaged through her stuff. They had a fight and Hyo Rin rushed to her crying mother. Her mother gave her few pills and asked her to take it and says everything will be fine by next day. Hyo Rin switched on the CCTV and found her mother crying. She and In Hye were painting while Hyo Rin painted a dark art with a girl with same red shoes. In Hye was surprised with get talent. Sang Ah was watching as Jae Sang gave interview about his father in law while she's with her father who's in coma.
Next day Sang Ah and Jae Sang act like an idol couple in an artistic even while Sang Ah suffered hangover and In Joo helped. In Kyung and Jang Ho visited one of the school ss TV reporter and assistant where the manager showed them Blue Orchid and achievements of Hyo Rin's father during Vietnam War. In Kyung gets shocked knowing that Ma Ri was an alumni in the school too. In Joo and Hyo Rin came out after shopping only to find Jae Sang men tailing them. She entered back and took the other route and went Hwa Young's place. She told how she was a good friend despite cheating her and In Joo found abuse marks on her. In Joo started having soft corner for Sang Ah.
In Joo told the same to Do Il who says that she got fooled by Sang Ah's acting skills. She gets text from In Kyung about Do Il. In Joo is with in Kyung and Jang Ho who showed her proofs that Do Il killed his girlfriend for money and also that his mother killed another person in front of him when he was 12. In Joo kept denying having any feelings for Do Il but In Kyung doesn't believe her. She found that he's the one who asked In Joo to use the ledgers against Jae Sang to strike a deal. In Joo sees the Blue Orchid hanging and shows finding the same at Hwa Young's place too. They gets shocked. In Kyung visited her office to find Great Aunt tensed about something and asks what she was doing there. She left without answering. In Kyung visited her chief with her Blue Orchid theory and he asked if she's drunk. He gave her a bad news that she got fired.
In Hye called In Joo asking her to bring Hyo Rin's phone which she left in her room. She found it under bed and tries to get it. She got hold of the red shoe painting and got shocked. In Kyung angrily visited her grandmother confronting her about taking her from job only to know that she didn't do anything. In Joo confronted Hyo Rin about the drawing as its the same way Hwa Young died. In Hye told that it war he who asked her to draw the thing which he haunted her the most. In Kyung angrily went to Jae Sang's press meet and confronted him about hue father's real estate scam. Whole media pointed at Jae Sang. In Hye and In Joo found Hyo Rin missing and found her in car in parking from CCTV. She had the dashboard cam video of Park Jae Sang visiting Hwa Young at the time for death and got shocked.