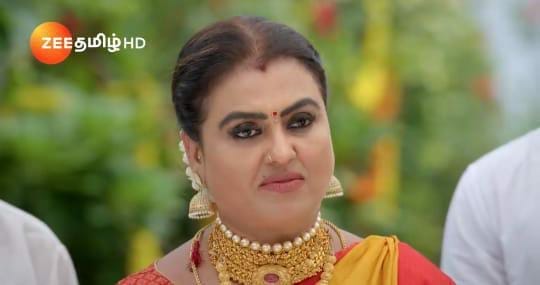 Maari Upcoming Story, Spoilers, Latest Gossip, Future Story, Latest News and Upcoming Twist, on TellyExpress.com
Maari is newly launched show of " Zee Tamil". Maari has the innate ability to see the future and foresee impending dangers. Now serial focusing on Thara will provoke Chaamundeshwari against Maari.
In the previous episode we saw; Hasini waited for the married woman. Thara pretended like inquiring her about married woman? Hasini informed to her that she invited everyone they will come there asap. Thara said to Chaamundeshwari that she shouldn't trust Maari for her innocence. She was a unlucky person.
Village people curse her for her bad luck. They kicked her out of village. Chaamundeshwari lashes out at her for lying. Thara said to her she was a bad luck person that's why no one attend the function yet. Devi disguised like married woman and come there. Thara got shocked seeing this. She inquired them about one more person.
In the upcoming episode viewers will see; Chaamundeshwari will demand Thara to attend the function. She will deny it but she ordered her to do it. Thara will glare at Maari.
Maari will gift the rituals things to the married woman. Thara will remind the way Devi gifted such things to her. She will be determined to take revenge on Maari for it. Chaamundeshwari will compare Maari with Devi.
What will happen next? Will Maari go to Surya's house? How will Maari tackle the situation?
Upcoming episode will answer to our all questions stay tune with our space for more updates.