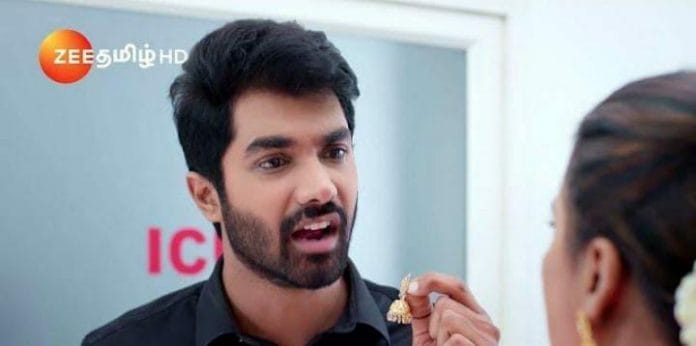 Maari Upcoming Story, Spoilers, Latest Gossip, Future Story, Latest News and Upcoming Twist, on TellyExpress.com
Maari is newly launched show of
" Zee Tamil". Maari has the innate ability to see the future and foresee impending dangers. Now series focuses on Aravind plans to kill Surya
In the previous episode we saw; Maari serve food to Surya and advised him to return home in red car. Aravind was shocked to see Surya return home in red car. Later, Shankarapaandi informed the priest arrange everything for Jasmin marriage.
Shankarapaandi grew suspicious noticing maari name there. He shared his doubt with Jasmin but she was adamant to perform her wedding in same temple. Meanwhile, Surya got ready to leave.
Vigilance officer checked Surya's house. Maari treated them well to stop Surya from attending the meeting. Vickram found the mystery behind Padma's death
In the upcoming episode viewers will see; Aravind will ask Surya to attend the meeting. He will inform him that meeting was over. Maari will be happy to hear it. Aravind will inform the goons to proceed their plan next time.
Later, Vickram will contact Maari and inquire her did she find the music box? She will reveal him that she couldn't find that. Vickram will request her to find it asap. Meanwhile,
Thara will ask Surya to cancel his meetings. She will reveal to him that she arranged his marriage with Jasmin. Everyone will be shocked to hear it. Sujatha will try to inform Jagdish about it. But Maari will stop them.
What will happen next? Will Maari reveal Jasmin's truth to Surya? How will Maari tackle the situation?
Upcoming episode will answer to our all questions stay tune with our space for more update