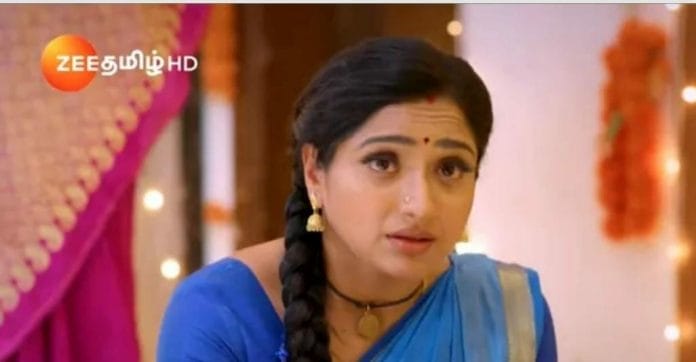 Maari Upcoming Story, Spoilers, Latest Gossip, Future Story, Latest News and Upcoming Twist, on TellyExpress.com
Maari is newly launched show of " Zee Tamil". Maari has the innate ability to see the future and foresee impending dangers. Now series focuses on Devi to stop Jasmin and Surya's register marriage.
In the previous episode we saw; Surya learnt about Thara planned for his register marriage with Jasmin. He refused to marry Jasmin. Thara convinced him using his weakness. Surya informed Maari about it.
Maari was hurt to hear it though she asked him to marry her according to Thara's wish. Jasmin called Maari and mocked at her. She told her that she will return home as Surya's wife. She wanted to decorate her first night room.
Maari prayed to god for his safety and inform everything to Hasini. Jagdish took gun to shoot Thara in anger. Maari requested him to don't take any decision in rush. Jagdish prayed to Devi to stop this Register marriage.
In the upcoming episode viewers will see; Mentally unstable person will create a problem in register office. Registrar will reveal his past with Surya. Jagdish will ask Devi to stop this marriage at any cost. Maari will also do pooja in temple. Surya will about to sign in the register.
Power went off. Peon will inform them power will come in evening. Thara will demand him to perform the register marriage asap. He will notice a snake there. Everyone rushed out of that room in fear. Register will inform them it's a bad omen. Let's perform it tomorrow but Thara is adamant in her decision. When Surya try to sign in it again Papers fly in the breeze.
What will happen next? Will Maari reveal Jasmin's truth to Surya? How will Maari tackle the situation?
Upcoming episode will answer to our all questions stay tune with our space for more updates