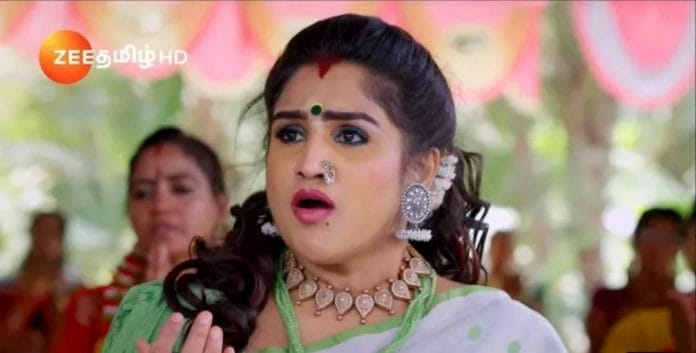 Maari Upcoming Story, Spoilers, Latest Gossip, Future Story, Latest News and Upcoming Twist, on TellyExpress.com
In the previous episode we saw; Sreeja scold Maari for ruining their peace. Grandpa consoled Maari and said to her everyone misunderstood her as bad omen actually you were gifted to see the future visions. She was alerting them before they get into trouble but people misunderstood her intentions. He assured her that soon her king will come to marry her.
Later Surya admired the ear rings. His sisters snatched it from him and teased him there. Surya shared to them how did that stead saved his life. Later Thara got a dream like Surya marrying to someone else. She got up in panic. She shared to her son about it and determined to send Surya back to foreign.
In the upcoming episode viewers will see; Sreeja will inform to her mom and Grandpa that Maari left the house. Maari will sing in temple Shakunthala will admire her song unaware she is Maari.
Meanwhile Maari will drown in temple pool get a future vision of something bad gonna take place. She will see the wedding sarie of Meena.
What will happen next? Will Maari save Meena from danger? When will Surya find out Maari?
Upcoming episode will answer to our all questions stay tune with our space for more updates.