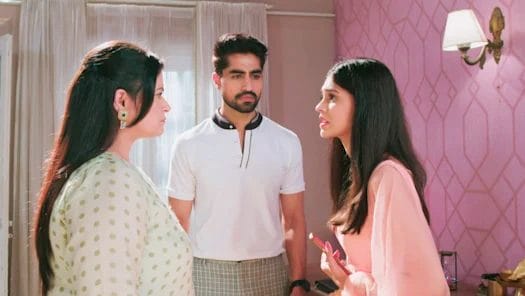 Yeh Rishta Kya kehlata Hai Upcoming Story, Spoilers, Latest Gossip , Future Story, Latest News and Upcoming Twist on TellyExpress.com
Akshara and Abhimanyu decide to celebrate latter birthday privately. Arohi and Mahima plans to ruin the day
In today's episode, Goenkas discuss about Vansh's alliance. Vansh tells to Goenkas that he is okay with arrange marriage. Suhasini and Swarna decide to call the girl side. Kairav decide to call Akshara for Vansh's big day.
Abhimanyu meet his doctor. He asks him to stop his anxiety pills. Doctor advice Abhimanyu to continue the medicine until he is fully cured. Abhimanyu understand doctor. Manjiri over hear Abhimanyu and doctor talk. She worries about Abhimanyu's anxiety. Abhimanyu hides about his stress and anxiety from Akshara. Manjiri think Abhimanyu don't want to stress Akshara thus he hides about his anxiety.
Abhimanyu gets restless. Akshara asks the reason. Abhimanyu share that he is nervous taking such a big responsibility. Akshara boosts Abhimanyu's morale. She praises Abhimanyu. Akshara hugs Abhimanyu.
Later, Abhimanyu informs Akshara about getting selected as a lead singer for a big event. He asks Akshara if she will sing. Akshara agrees to sing. Abhimanyu and Akshara spend quality time together.
Later, Mahima decide to meet Arohi and join hand with her. Akshara visit Goenkas. Aradhna and her family meet Goenkas for Vansh's alliance. They talk about Kairav's mental illness. Akshara gives a befitting reply and defends Kairav. Abhimanyu and Manjiri wait for Akshara at dinner party. Goenkas ask Akshara to go back to Abhimanyu as they will handle Kairav.
In the upcoming episode, Akshara will plan a surprise for Abhimanyu's birthday. Will Akshara be able to excute her surprise or Mahima and Arohi will ruin it? Keep watching the show for more entertainment.
Follow us for TV serial latest updates