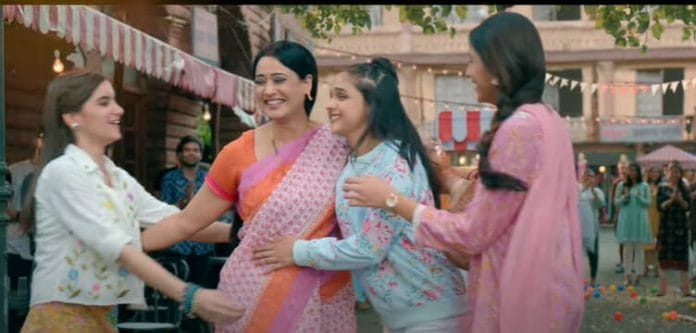 Main Hoon Aparajita 12th November 2022 Written Update On TellyExpress.com
The episode starts with Chavi returning home. Akshay goes in front of her and recalls MLA's words. He asks if she went to meet Veer. Chavi recalls her love confession to Veer. Akshay holds Chavi's hand and warns her to not hide anything from him as he knows everything. Aparajita makes Akshay leave Chavi. She says to Chavi to not get scared as I trust you and tells him the truth. Akshay says yes, tell the truth about how your lover Veer thrashed Vicky and sends him to the hospital.
Chavi stays silent. Aparajita asks if Akshay is saying the truth seeing her silence. Chavi says she loves Veer. Aparajita says today you proved that you're the daughter of your dad. She raised her hand at Chavi and asks why she lied to her. Chavi cones out from her inspiration. Aparajita says it swears on me Chavi, tell me the truth. Chavi apologizes to her for hiding Veer's matter from her and accepts that she loves Veer. Aparajita sits silently. Akshay mocks Aparajita and asks if she gets her answer.
Aparajita asks Chavi how can she hide the big matter from her when she used to share every small matter with her. Chavi apologizes to her. Manish reveals to Mohini that Chavi is having affair with MLA's son. Mohini smiles. Manish says MLA threatened Akshay so he is so angry and goes to Aparajita's house. Mohini says finally Akshay's anger shifted to Aparajita and Chavi, I love this news as it will shock Aparajita to the core. Chavi asks Aparajita to talk with her and vents her frustration at her. Akshay angrily drags Chavi and says your mom won't talk about anything. He warns Chavi to stay away from MLA's son.
Aparajita stops him and says his way of treating Chavi is wrong. Amma supports Aparajita. Akshay asks Amma to not involve. He tells Aparajita that he has the right on Chavi to teach her a lesson. Aparajita says you never fulfilled your duties as their father so don't talk about rights as it need to be earned. She tells him he doesn't have any right to involve between them. Akshay asks her to stop giving me gyaan. He warns Chavi to remember his warning. He tries to take her mobile. Aparajita tries to stop him but he pushes her.
Chavi says enough, you can't say anything to mom as I'm the one who failed all tests. She says she is scared but she is not feeling regret for loving Veer. She says Veer couldn't control knowing Vicky misbehaved with me and he reacted like Disha but you didn't trust me so stop talking about trust as you don't care about us and whatever you do is just show off. Akshay gets angry and raises his hand at her. He stops himself on time. Chavi goes inside. Amma asks Aparajita to take care of Chavi. She asks Akshay to take her to their house. Akshay warns Aparajita saying he won't leave her if anything goes wrong with Chavi.
Disha knocks on Chavi's room door. She asks if she is lying. Chavi says it's true. Disha says Veer is a bad person. Chavi says you don't know about him and he is a good person. Aparajita comes there and asks Chavi to open the door immediately. Chavi opens the door. Aparajita goes inside the room. Mohini tells Akshay that his daughters are tacky. Akshay warns her to not talk anything about my daughters and Chavi loves me but you turned it into hate. Mohini asks him to stop his show off that he cares for them. Akshay says I was selfish to get this house but don't think that I didn't care for my daughters. He says he is trapped between her and Aparajita. Mohini asks him to stop blaming us as you know what's the truth. She leaves.
Aparajita says to Chavi that by staying in this room she can't hide her mistake and Aparajita's mistake. Aparajita says she trusted her blindly. Chavi says to Aparajita that she was about to tell her truth and asks Aparajita to trust her. Aparajita says to Chavi she trusted her and says she trusted her even if she lied to her again and again.
The cup falls on the ground and breaks as Chavi accidentally hits it. Aparajita asks Chavi to be careful and says the cup broke and the edges might hurt her. Aparajita compares trust with the broken cup and says once it is broken it can never be like before and says there will always be a mark even if the broken pieces are attached again. Aparajita takes the broken cup pieces and leaves from there.
Episode ends.
The episode starts with Mohini asking disguised Disha why Citi hospital people are saying they didn't send any ambulance. Disha says it can be a prank and if you want we can drop Dadi here as we don't care if she lives or dies. Dadi acts like she is in pain. Mohini asks them to take Dadi with them. Nia notices Asha's face when an ambulance is leaving. She thinks these people are so good and love Dadi so much that's why they take this risk. Aparajita returns home. She asks the men to place the dining table inside. She senses Amma's kheer smell. She asks Guffran if Amma sends her kheer. Amma comes out and says she is here. Aparajita feels happy and takes her blessing. Amma feeds her kheer. Aparajita asks how she came. Amma reveals how her daughters bring her to surprise their mom. Aparajita hugs her daughters.
Mohini says something is wrong as hospital people are saying Dadi is not admitted to the hospital. Mohini is about to call the police station. Nia stops her and reveals to her that she knows where Dadi is. Mohini asks what. Aparajita tells her daughters she loves their surprise and asks how they bought Amma. Asha reveals how they kidnapped Dadi. Aparajita says it's good you bought Amma here but this is not the way and it may stress your dad as they may be searching for Dadi in the hospital. Disha asks her to not think about them and asks her to enjoy her birthday. Amma asks Chavi to get the bowls to distribute kheer. Guffran gifts a cell cover to Aparajita. Amma asks Aparajita to stay happy and assures her that she will handle Akshay.
Also Check: