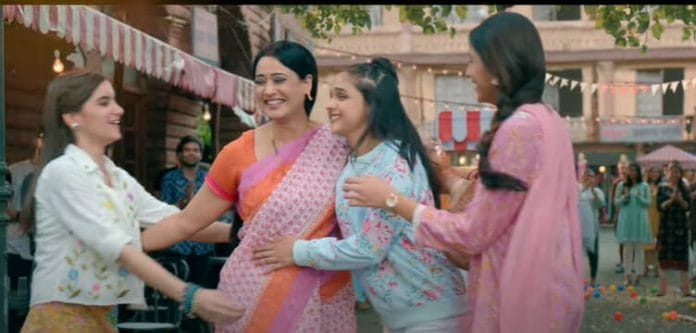 Main Hoon Aparajita 15th November 2022 Written Update On TellyExpress.com
The episode starts with Veer saying to Chavi that tomorrow world will wait for the moon to rise and I will wait for you. Chavi looks impressed. He leaves. Asha wakes up and calls Chavi. Aparajita says to Disha that Chavi liking Veer so there might be something in him and hope Chavi doesn't get betrayal. Disha says you may fall in love again mom. Aparajita says she loves her daughters. Asha asks what's she doing near the window. Chavi says nothing. Asha asks Chavi to explain what they feel when someone is in love. Chavi says they start to like everything in love. Asha says she is wishing for her prince charming. Chavi asks her to stop it. She decides to talk to Aparajita about Karva Chauth's past for Veer.
Amma thinks Aparajita will do fast for Akshay, not Mohini. Aparajita reminds Chavi about her promise. Nia messages Asha and calls her sisters for a lunch treat. Asha replies it's not possible. Nia pleads with her. Asha says Chavi and Disha won't agree. Nia replies you can do it. Disha calls Asha to eat dinner. Mohini asks the worker where is her sargi thali. The worker says she doesn't know. Nia asks her what happened. Mohini says her Karva Chauth Thaali is missing.
At the dining table, Chavi asks Aparajita if she does Karvachauth for dad. Aparajita says I used to do it for Dadi once your dad left me. Disha says this year no need to do it. Aparajita says she won't do it this year. Chavi asks won't she do for Dadi also. Disha says it's not needed. She asks why you're so interested, Are you planning to do it? Chavi says it's for a married woman so I won't do it. They hear a calling bell. Aparajita sees sargi. Disha asks who send it. Amma calls Aparajita and asks if she likes her surprise. Aparajita looks on. Asha notices Aparajita's mangalsutra in it. Aparajita asks Amma about it. Amma reveals how she bribed a worker to make her get mangalsutra and Shagun. She asks Aparajita to do her Karva Chauth. She hears someone knocking on the door and disconnects the call. Disha asks Aparajita to not do any karvachauth. Chavi asks Aparajita to do it.
Mohini slaps the worker in front of Amma. Amma says she did it not worker. Worker leaves. Mohini says you're hurting me for that Aparajita. Aparajita says I will accept sargi as it's Amma's love but I won't wear this mangalsutra and won't do Karvachauth. Mohini tells Amma that she will spoil Aparajita's work as her revenge. Akshay and Manish drink wine. Mohini comes there and complains to Akshay that his mom sent her sargi to Aparajita. She warns him to stop Amma otherwise she will do something. Akshay agrees. Mohini leaves. Akshay thinks that Aparajita is still fasting for his wellbeing.
The next day, Disha tells Chavi and Asha that someone ate sargi. Chavi says maybe, mom had it changing her heart. Disha says mom won't do it. The manager informs Mla that the opposition party is opposing his rally program. Mla says he won't cancel it and asks him to increase security without informing anyone about it. Veer hears it. Aparajita asks the police why they are arranging bargates. Pappy says according to the forwarded message something is going to happen today and it might be a bomb blast too. Constable asks her to not spread fake news and it's for the Mla rally. Pappy asks Aparajita to know directly from Mla as he is the father of her daughter's lover. Aparajita asks her to read forwarded message. She is about to leave. Mohini confronts if she is doing karvachauth for her husband. Aparajita asks if she is scared that she will lose Akshay to her. She rebukes her and leaves.
Disha prepares pakodis. Nia messages Asha to bring her sisters to lunch at 2 pm. Asha agrees. Nia asks Akshay to take her to lunch. He agrees. Aparajita calls Amma and tells her that she doesn't want to do Karwachauth. Amma says it's your wish so follow your heart. Aparajita smiles and disconnects the call. Akshay comes there with sweets. He asks Aparajita to give sweets to his kids. Aparajita says kids are grown up and they understand who loves them so stop this dad drama. Akshay confronts why she does Karvachauth and confronts if she is expecting him to return to her.
Episode ends.
Also Check: