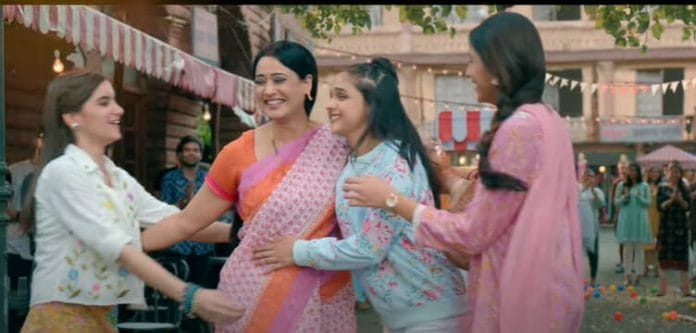 Main Hoon Aparajita 16th November 2022 Written Update On TellyExpress.com
The episode starts with Akshay saying to Aparajita heard you kept fast for me and seems like you're expecting me to return to your life. Aparajita places detergent in front of him. He asks what's it. She tells him to clear his thinking process using detergent and clears him that she doesn't want him in her life and near her. She tells him that she didn't keep any fast this year, till now she used to keep fast for him for Amma's happiness but now Amma knows why she didn't keep fast. She declares that she don't want to see his face. Akshay says feelings are mutual and even I don't want to see your face. He is about to leave. Aparajita asks him to take back his sweet box. He leaves without taking it.
The opposition party leader enrages his party members with his words and he orders them to kill people in the process for their win in the next election. Everyone agrees. Disha eats pakodi. She asks Asha who may eat Sargi. Asha says they need to find it. Disha doubts Chavi and asks Chavi to taste her pakodi. Chavi denies it and tells her she is cleaning the floor. Aparajita returns home and places veggies in the fridge. Disha asks Aparajita to taste pakoda. Aparajita asks her to get it. Asha receives the message. She rushes to her phone and collides with Disha. Disha drops Pakodi's plate and scolds Asha. Asha notices Nia's message that she is rushing to Hotel. Nia meets Dadi and assures her that she will unite everyone as a big family soon. She reveals to Dadi about her lunch plan to make Akshay and her sister's closer. Nia asks Dadi to keep it a secret between them. Dadi promises her and says Aparajita is correct about you and you're so sweet.
Asha asks her sisters that they can go for shopping. Aparajita says it's not a good time as Puppy said something is going to happen in the city according to forwarded messages. Asha says puppy can't be true and they are just rumors. Aparajita asks them to concentrate on their deliveries leaving the outing plan. Asha thinks how to answer Nia. The manager informs Mla that people are scared of seeing forwarded messages and bargates. Mla asks him to call back police protection to make people feel that the forwarded message is fake. The manager says it's risky for people. Mla says they have to risk some people's lives and we can throw allegations on the opposition party if something happens. Veer hears it. Mla sees him and warns him to not go outside today. Veer leaves.
Chavi tells Veer that she can't come to meet him. Veer asks how to break his fast. Chavi says I too keep fast for you but today it's tough to meet you. Veer asks her to prove her love by coming to meet him at least for 10m. Chavi agrees. She tells Asha that she is ready for shopping. Asha feels happy and says mom may not allow us. They see the police force is moving back removing bargates. Asha gets to know from them that the news is fake. Asha and Chavi request Aparajita to allow them to go to mall. Aparajita says she will accompany them. Asha and Chavi get tensed. Disha says it's good let's go. Aparajita says she will bring the car. Disha goes to get the car. Amma calls Aparajita to know where is she going. Aparajita tells they are going to the mall. Dadi in tears tells she is feeling a bad vibe knowing she didn't keep fast this year. Aparajita feels bad. Guffran tells Aparajita that the hotel manager called them to send him a bill for payment. Aparajita asks her kids to go. Disha asks Aparajita if she is planning to fast again. Aparajita says no. They leave for the mall in their van. Aparajita notices an inauspicious sign. She prays to god for her kids wellbeing. Nia reaches to hotel. She calls Akshay and asks him where is he. Akshay tells her he is coming and is stuck in a traffic jam. Nia asks him to come soon. The opposition party creates commotion in that area. Akshay comes out of the car and gets shocked seeing the scenario. He tries to get back in the car but one of the protestors tries to harm him.
Episode ends.
Also Check: