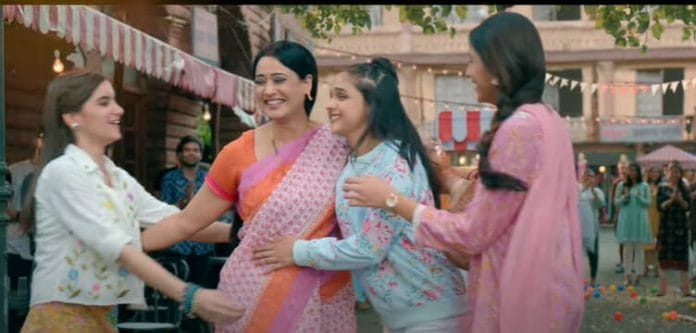 Main Hoon Aparajita 17th November 2022 Written Update On TellyExpress.com
The episode starts with Aparajita talking with someone on the phone about a laundry bill. Aparajita puts food on a plate and is about to eat the food. Akshay is shown to be defending herself from the protestors. Nia waits for Aparajita's daughters in the restaurant. Mohini calls Nia and asks where did she go? Mohini says she went to a restaurant and says she told Akshay and he is also going to join her. When Mohini tries to talk to Nia the connection goes off. Nia apologises to Mohini for hiding the truth in her heart.
Guffran says there is a lot of havoc going on outside his house and he was scared to come out. Aparajita worries and calls the Disha to find out where they are? Asha says to Disha and Chavi that this lunch plan is made by Nia. Aparajita asks Guffram to check the news on the internet. Guffran sees and says the Internet is down. Asha says her friend is going to give them a treat. Disha says to ask Asha's friend to the food court. Asha asks Chavi to convince Disha saying it will not be good and her friend will get upset. Chavi convinces Disha not to argue with Asha. Disha agrees. Chavi gets a message from Veer and says to Disha that she will come in 10 min. Disha asks Chavi if she is going to meet Veer. Chavi says yes. Asha convinces Disha saying Aparajita already knows about Chavi and Veer and there is no need to tell her anything. Asha gives an extra 5 min to Chavi and asks her to come in 15 min. Disha asks Chavi if she was doing fast. Chavi says Veer is also doing the fast for her. Disha's comments on their behaviour. Chavi says she will come in 15 min and leaves from there. Akshay calls Nia but the call doesn't connect. Nia greets Asha and Disha. Asha apologises to Disha for lying to her. Nia thanks Asha for helping her. She says Disha to sit and talk. Disha says one second.
Aparajita thinks about how to know what's happening as the internet is not working. Puppy comes there with Dolly. She asks Aparajita to close the shop as riots are happening in the city. She asks where are her daughters. Aparajita says they went to the mall. Puppy scolds her for sending them without listening to her warnings. Aparajita notices Dolly is missing. Guffran asks them to come inside as protestors come there. Aparajita sends Puppy inside and she goes to save Dolly. Disha scolds Asha for lying to her and she says she will leave. Asha confesses that she ate sargi. Disha asks why she ate it. Asha tells her she ate for her family's wellbeing and Nia is good so we can be friends now. Nia pleads with Disha to accept her lunch treat. Disha accepts it. They call waiter. Nia asks where is Chavi. Asha says she is coming in a while. Disha orders so much food. Asha asks Disha why she ordered so much food when she knows that she and Chavi are fasting. Disha says me and Nia will eat as her dad is rich. Nia says their dad. Disha says no, he is just your dad and we have just our mom.
Guffran and Puppy hide in the shop. Puppy prays for her daughter. Aparajita searches for Dolly. Akshay fights with protestors to save the couple. Driver informs Mohini about riots. Mohini feels worried for Akshay and Nia. Amma hears it. Akshay runs from protestors and hides behind a car. Aparajita saves Dolly and they hide from protestors. Akshay notices so many missed calls from Nia. He calls her and asks her to not come out of the restaurant and warns her about riots. Nia couldn't hear his voice and asks him to come soon and cuts the call. Aparajita calls Police for help. Next, she calls Disha and receives her number is unreachable. The waiter places food on the table. Asha asks if she can eat all the food. Disha says she can and eats the food. Nia waits for Akshay. Mohini calls Nia but Nia didn't attend her calls. Akshay calls Mohini and tells her he will bring Nia home and the call gets disconnected. Aparajita prays God to save her daughters.
Episode ends.
Also Check: