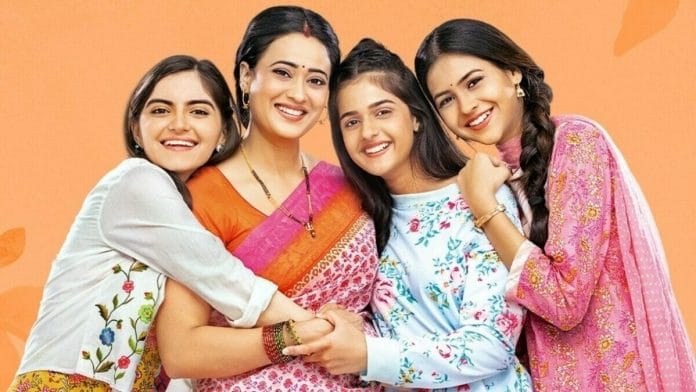 Main Hoon Aparajita 19th January 2023 Written Update On TellyExpress.com
The episode starts with Aparajita trying to wipe her sindoor from her hair partition. Chavi stops her. She makes Aparajita sit and says one who filled the sindoor on your hair partition loves you, he is not the one who cheated on you so don't wipe out your beautiful moments of the past by wiping it. She says she wishes they can live together. Aparajita asks her to stop dreaming and says she saw the reality of her father. Chavi says but you used to wear sindoor. Aparajita says I used to wear it for my kid's right and I used to wear mangalsutra for Amma's happiness but he snatched it and now he forgets his memories that's why want me to wear mangalsutra but he will change once he recalls the memory that's why I want to wipe this sindoor. On another side, Mohini applies sindoor in her hair partition and thinks she has a right on it. Akshay says to Amma 'he will bring mangalsutra from the goldsmith and goes inside to get ready'. Asha says Akshay may face a brain hemorrhage if he recalls everything.
Nia asks Mohini why she is applying sindoor on her maang. Mohini says your dad cheated on me by applying sindoor to Aparajita and we are not made for each other anymore. Nia says Dad used to love Aparajita. Mohini says stop it and slaps her. She realises what she did and apologizes to her. Nia says currently Akshay doesn't know about them he just loves Aparajita and Chavi and we have to wait until he regains his memory. Mohini says she can't wait as they will lose Akshay forever because of Aparajita so I don't care what other think and I will make Akshay recall everything. Nia asks how she will do it as she is just a stranger to him. Mohini says 20 years back also I'm a stranger to him and I will snatch him again by repeating the history.
Akshay comes out of the room. He says to Amma he is going. Aparajita signs Kiara to implement their plan. Kiara asks Akshay to not go out and she insists him to play with her. Aparajita and everyone think Kiara is acting amazingly. Akshay tells Chavi that he is not leaving anywhere and tells her that he thought to go out to get her chocolates. Kiara asks him to go. Akshay agrees. Aparajita thinks their plan is flopped and asks Asha to tell the goldsmith about the situation. Asha asks her to not let Akshay see any hoarding. Akshay says your plan is failed Aparajita and now I will getmangalsutra and chocolates. Aparajita says she will accompany him. Akshay says I know you're coming to eat golgappa so let's go.
Aparajita prays to God and asks him to make sure that Akshay doesn't realise that he is in 2023 and not in 2003. Akshay saves Aparajita from getting into an accident. Akshay says to Aparajita that he is worried about her as she couldn't take 2 steps without him. Akshay says now there is no need for her to fear as Akshay is here. Akshay helps Aparajita cross the road. Asha says to Chavi and Disha that she talked to the jeweller and he said he will take away everything that shows 2023. Chavi says to Asha and Disha about how cool Akshay is. Disha reminds Chavi that he left Aparajita and never came back. Disha says once Akshay regains his memory he will go back to Mohini again. Dadi hopes that Akshay will never regain his memory.
Aparajita sees a sign board on which it mentions Happy new year 2023. Aparajita makes Akshay play the trust game that they used to play. Aparajita ties a blind cloth on Akshay's eyes in the middle of the road. Puppy sees Akshay and Aparajita's romance and comments on them. Aparajita tells Akshay in which way to go. Mohini is shown to be talking to Puppy on the phone. Puppy says to Mohini that Akshay took Aparajita on a date. Mohini decides to make Akshay recall his memory no matter what.
Episode ends.
Also Check: