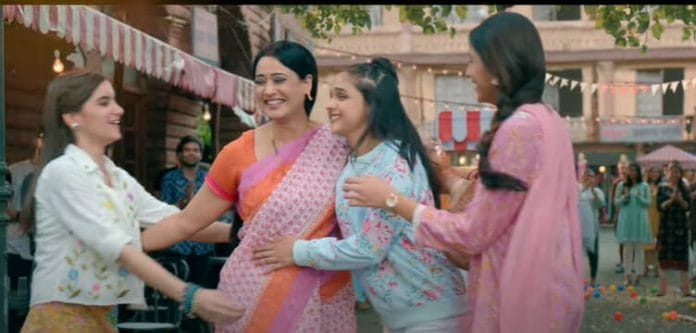 Main Hoon Aparajita 20th December 2022 Written Update On TellyExpress.com
The episode starts with Mohini entering the old cafeteria and calling joker to come out. Aparajita thinks I realised that Mohini is behind joker but now it's time for me to leave from here for my kids. Akshay reaches the cafeteria and thinks what's Mohini doing at this place? Aparajita escapes from the room diverting Mohini's attention. Akshay receives Nia's call. He tells her that they can plan a surprise once she returns from college. Aparajita hides after seeing him. Akshay enters inside then Aparajita leaves. Disha feels worried when the Doctor doesn't attend to her calls. Puppy sees Disha and asks her what happened. Disha tells her Chavi falls on the floor with blood and doesn't know what happened. Puppy sends another neighbour to call Doctor. She goes with Disha to check on Chavi.
Mohini sees the handbag and she is about to open it. Akshay comes there and says he knows what's she doing. Mohini gets tensed thinking she caught. Akshay says he knows that she is planning to arrange a surprise here. He sees the bag and asks about it. Mohini says she bought cash to give the owner. Akshay asks who's the owner who is trying to steal her. Mohini says she isn't lying. She asks why he followed her. He says he followed her to know her surprise isn't big as his. Mohini asks him to leave and tells him that she will come. Akshay asks her to not misuse his trust. He tells ger that he is going to meet Chavi to lighten her mood. Mohini agrees. She thinks hopes the plan doesn't backfire on me.
Aparajita returns home and notices ladies in her house and the Doctor checking Chavi. Aparajita asks what happened. Disha tells her what happened. Puppy says Chavi may attempt suicide as you denied her marriage. Aparajita says Chavi won't do it. Disha says yrs and there is no knife around her.
Veer in worry thinks about how he tries to marry Chavi by placing his blood on her mang but she resists and in that process, her hand gets cut. Disha comes there and calls Chavi. Chavi swears on herself and makes Veer leave then she falls unconscious. The doctor says it's not a suicide attempt but she got hurt because of Knife and only Chavi can tell us what happened. Aparajita asks him if she is fine. The doctor says Chavi got a fever and fell unconscious because of Fever and her fever must reduce otherwise complications will increase. Puppy informs Akshay about Chavi's suicide attempt. Aparajita thinks about how to make Chavi realize what's good for her.
Akshay comes to Chavi and he asjs unconscious Chavi why she attempted suicide when she has him. Aparajita says it was a panic attack because of the cut and she didn't attempt suicide. Akshay blames Aparajita for Chavi state. Aparajita cones out and leaves. Disha asks Aparajita what happened. Aparajita says she feels it's happened because of her. Disha says it's not true and asks if that person came. Aparajita stays silent. Disha goes to Chavi's room where she sees Akshay crying for Chavi. Aparajita comes there. Disha receives call. Aparajita attends to Asha's call and tells her that they are fine and asks her to take care of herself. Aparajita and Akshay place a wet cloth on Chavi's forehead. Akshay asks Aparajita if she had this attack before. Aparajita reveals to him it started when he left them.
Episode ends.
The episode starts with Mohini getting a blackmail letter asking her to bring 20 lakhs for the address on the letter if not the joker says he will tell everyone that she is the one who sent him to hypnotise them. Aparajita prays to God and asks God to reveal the truth out of Mohini's mouth. Disha comes and says to Aparajita that Mohini took the letter. Aparajita says to Disha that she might have written a big amount on the letter. Disha asks Aparajita not to think like that and says she thinks 20 lakhs is a small amount. Disha asks Aparjita to calm down.
Mohini thinks if she paid the money to the joker he might come to him again and if Akshay knows what happened then he will hate her forever. Mohini thinks Aparajita will use it to her advantage and thinks she shouldn't allow it to happen. Mohini slips and the letter falls near Akshay's feet. Akshay asks Mohini what is it? Mohini says it is a surprise for him and asks him not to ruin it. Akshay agrees and says he is also waiting for their first anniversary here as it is tomorrow. Mohini says she also feels the same. Akshay leaves from there.
Also Check: