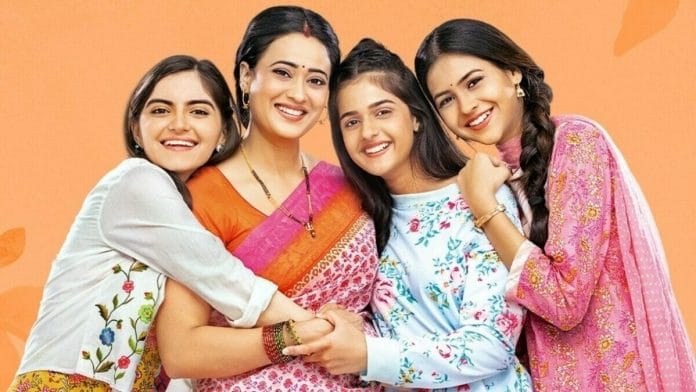 Main Hoon Aparajita 21st January 2023 Written Update On TellyExpress.com
The episode starts with Aparajita returning to the laundry and witnessing Sujatha creating a scene. Sujatha asks Disha to pay her 5k and asks Aparajita if she is busy with her husband who lost his memory. Aparajita returns her blouse and rebukes Sujatha. Sujatha leaves taking her blouse. Aparajita asks her children if Akshay returns home. They say he didn't return home. Aparajita asks where he went.
Mohini sees the unconscious Akshay on the bed. She says she successfully planted doubt on Aparajita in his heart. She decorates all room with her photos with Akshay. She wake-up Akshay sprinkling water on his face. He gains consciousness and asks how he came to the room. Mohini asks him to see the truth around him. Akshay is about to see the photographs but Aparajita comes there and asks Akshay whats he doing here. It's shown Puppy informs Aparajita that Akshay returns home with Mohini. Aparajita asks Akshay to come to their house. Mohini stops Aparajita and says it's his house too and didn't you tell him why you stay differently when I'm living in this house and what are you trying to hide from him? Hope everything is fine between you. Aparajita says the relationship between 2 people gets affected by 3rd person's entry but there is no one between us. She warns Mohini to not need her husband without her permission and tells her that she can oust her from the house too. Aparajita takes Alshay with her. Mohini gets shocked.
Akshay stops Aparajita and tells her that the angry woman avatar totally suits her. Aparajita looks down. He asks her to see her eyes and tells her that he wants to see her love for him. Mohini witnesses it. Akshay tells Aparajita 'only she has right on him and he completely belongs to her and remember Akshay is incomplete without Aparajita'. Mohini cries. Akshay says I want to confess the truth to you. He kneels down in front of Aparajita and says 'I love Appu'. Rose petals shower on them. Mohini tries to control her anger. Aparajita recalls her good and bad memories with Akshay. Aparajita thinks this Akshay is a shadow and not real. Akshay leaves with Aparajita.
Mohini goes inside and places the knife on her hand. Nia stops Mohini and calls Manish. Manish asks Mohini what happened. Mohini says Akshay proposed to Aparajita infront of me so I want to take revenge on Aparajita. Nia says you said Dad hate his first wife but after seeing them it's like they love each other. Mohini gets angry.
Disha and ger sisters make Amma drink water and they discuss what Mohini told to Akshay. On another side, Aparajita is lost in herself. Akshay goes near her. She feels tensed. Akshay says we are married 4 years back and still you feel shy when I'm around you and I know you love me more than I love you and you don't know how to confess. Aparajita asks how she go to that house with Mohini and why he disappeared from the market. Akshay says he can feel her jealousy. He asks if whatever Mohini told him about her is true. Aparajita asks what she told him and why he goes with Mohini and reached her room. Akshay says I fall unconscious that's why she takes me to her room? Aparajita asks why he falls unconscious and what she told him. Akshay says he will tell her if she replies to his I love you. Aparajita feels tensed.
Episode ends.