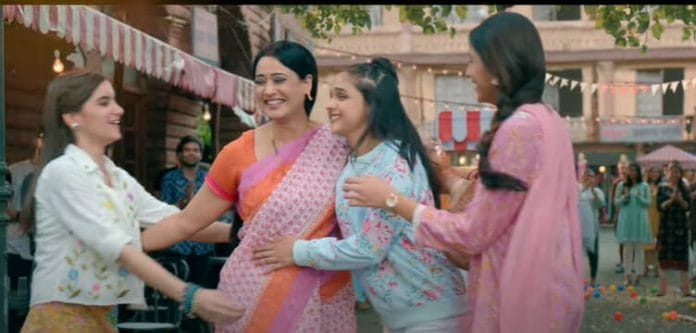 Main Hoon Aparajita 21st November 2022 Written Update On TellyExpress.com
The episode starts with Aparajita thinking of what happened previously. Aparajita thinks she has to do something to save Akshay but Aparajita also worries about the girls. Asha recalls what happened. Disha encourages Asha and tells her not to loose hope and says Aparajita will come soon. Aparajita says to Asha she will come soon inside and tells them to hide somewhere until she comes to them. Aparajita prays to God and thinks of how to save Akshay. The protestors make a video of Akshay and send it to their boss. A protestor calls their boss and says this guy is Sunil Thakur's man and says they sent his video to him and asks him what to do about him. Aparajita sees Akshay being surrounded by the protestors and thinks of how to save him. Aparajita pours diesel on the floor and tries to light a fire.
Sunil Thakur tells the SP that he doesn't want to hear his excuses and says controlling law or order is his duty and asks him to do something if not he will take away everyone's job. His PA advises him to bring in the army. Sunil Thakur asks if he is mad and says he is going to throw all the blame on the opposition and asks his PA to maintain contact with the media. Sunil Thakur gets a video from the opposition party leader.
The Goon receives a call from his boss that he sent the video to Sunil Thakur and asks them to keep Akshay captive. Aparajita lights fire. Goons sense the smell of it and come out leaving Akshay. They try to control the fire breakout. That time Aparajita enters inside to save Akshay. Akshay asks why she didn't go to save their kids. Aparajita says they are safe in a room and I heard these people are planning to harm so came here first. She unties Akshay. Akshay looks touched.
Opposition party protestors reach Veer's place. They identify. Veer's bike and searches for him. Manager asjs Sunil Thakur to not risk his political career to save one person. Sunil Thakur's wife comes there and tells Sunil that Veer is nowhere. Sunil says Veer went out without listening to him and tells her that he will find out where he is.
Veer and Chavi hide from protesters. Nia notices the network came. She calls Akshay but it doesn't get connected. She feels worried for his safety. Disha asks Asha to eat a sandwich leaving her fast. Asha says I keep fast for our family's safety and maybe that is the reason we are safe and wish Chavi and mom are fine. Disha asks her to eat as it's not good fir health. Asha denies. Disha and Nia also refuse to eat. Nia tries to call her mom but it doesn't get connected. Nia says hopes Asha's fasting works and mom is fasting and maybe Aparajita aunty also may fast for Dad. Disha gets angry. Nia says sorry and reveals that she arranged a lunch date to make them meet with their dad. Disha gets angry at her for arranging a stupid lunch date.
Goons control fire with a fire extinguisher. Akshay and Aparajita try to escape but the Goons return. Chavi and Veer hide in a cupboard. That time Asha calls Chavi. Veer cuts the call. One of the goon hear the sound and go towards the cupboard. On another side, Goon gains his consciousness and enters inside the kitchen with a ladder help. Disha and Asha pray for Aparajita's safety. They get shocked seeing the goon. Protestors push Aparajita inside and question how she came and tells her that she won't leave out with life. He places a sword at her neck. Another goon hits Akshay. Akshay looks helpless. Nia and Asha hide behind Disha seeing the goon.
Episode ends.
The episode starts with Akshay stopping Aparajita from leaving and asking where is she going? Aparajita shows the direction and says she is going that way. Akshay hopes all the girls are safe in the restaurant. The protestors bang on the door to make the girls open the door. Asha tries to break the glass. Nia feels like she is going to faint.
Akshay sees someone coming and hides from them. The protestors see that there is no one here and leave from there. The protestors say they have to come out if not they will feel suffocated because of the gas. A protestor sees Akshay and gets into a fight with Akshay and chokes him. Asha feels suffocated because of the gas. Disha encourages Asha that she can do it.
Aparajita gets stuck in the gate and prays to Lord Siva. Aparajita gets unstuck out of the gate. Akshay takes a rod and hits the protestors who is choking him. Disha catches Asha who is about to fall. Disha says she is here to catch her and asks Asha to break the glass. Asha breaks the glass and sees Aparajita from the window. Aparajita asks if she is alright. Asha says everyone is alright and Nia is with them. Asha asks Aparajita to save them. Aparajita recalls seeing a ladder and goes to bring it.
Also Check: