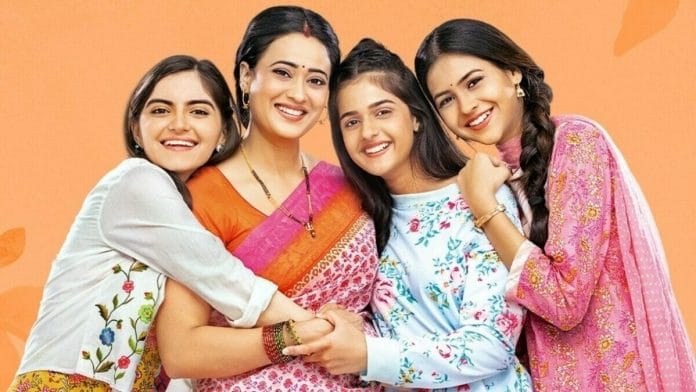 Main Hoon Aparajita 24th January 2023 Written Update On TellyExpress.com
The episode starts with Aparajita asking Mohini what is she talking about? Mohini says she is saying the truth and says her daughters stole a box from her house. Mohini says this is the box in Dadi's hand. Aparajita asks Mohini to stop this drama and asks Chavi where did she go when Akshay got attacked. Mohini asks Aparajita where was she when Akshay got attacked? Aparajita reminds Mohini that she wouldn't have gone to the doctor if she didn't try to pressure Akshay to recall his memory. Aparajita reminds Mohini that this is not a game and asks her to leave. Mohini says they are playing a game with her and not the other way around. Aparajita says she doesn't want Akshay and asks Mohini what did her daughters steal and tries to open the box. Dadi opens the box and gives a small box to Aparajita.
Mohini throws the box from Aparajita's hand. A ring falls out of the box. Mohini tries to take it. Dadi warns Mohini not to touch that ring as Akshay brought the ring as a gift of their marriage anniversary for Aparajita. Dadi tells them how Akshay showed the ring to to her and said this ring is for Aparajita. Dadi says Akshay couldn't give the ring on their marriage anniversary as he didn't come at that time. Nia asks Dadi why didn't Akshay come on their marriage anniversary. Aparajita recalls what happened. Aparajita is shown to be waiting on their marriage anniversary for Akshay but Akshay didn't come at that day. Dadi says she will talk to Akshay after he comes. Aparajita says Akshay might be busy with the new business.
Akshay sees that Aparajita is waiting for her at the door. Akshay asks Aparajita if she didn't sleep the whole night. Aparajita asks Akshay if he is troubled with the work as he always came back home no matter how busy he is. Akshay says he is busy with the work and leaves from there. Aparajita sees lipstick marks on Akshay's collar and suspects something.
Nia asks Dadi what happened that night? Mohini says there is no need to dig up the past but they need to know what is in the present and says this ring has no value just like there is no value for their marriage anniversary. Mohini takes Nia from there. Dadi says to Asha that he always used to have a lie ready for the marriage anniversary but after some time it is not needed as Akshay left Aparajita. All the daughters hug Aparajita hearing this. Akshay comes and see them and comments on them. Akshay sees the ring in Dadi's hand and says this ring is for Aparajita a gift for their marriage anniversary. Aparajita takes Akshay from there saying they have to go to the hospital. Akshay agrees and leaves with her to the hospital.
Doctor sees the scan results of Akshay and says to Aparajita that everything is normal in the scans. Doctor says to Aparajita they still have to be careful with Akshay's health.
Mohini comes and gifts a lot of rings to Aparajita saying if she wants to have rings then she can take these and warns Aparajita to not think of doing marriage anniversary with Akshay. Aparjita comnents on Mohini. Mohini says to Aparajita that Akshay didn't come on their anniversary because he was spending time with her. Akshay comes and greets Mohini. Aparajita takes Akshay from there. Akshay says he notices that whenever Mohini is by his side she will hold him strongly. Aparajita hearing this leaves his hand. Akshay asks Aparajita to hold his hand and says he likes it. Akshay says he doesn't want to see Mohini on their marriage anniversary.
Episode ends.
Also Check: