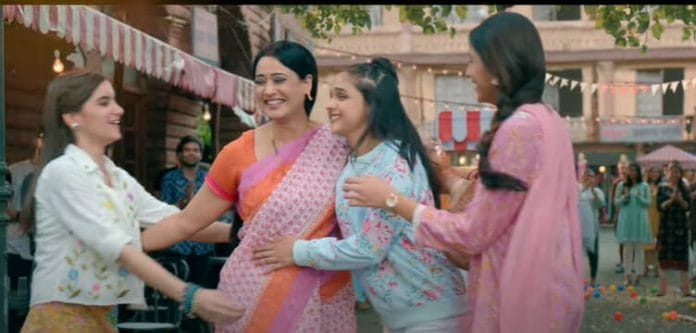 Main Hoon Aparajita 24th November 2022 Written Update On TellyExpress.com
The episode starts with Goons trying to break the door of the kitchen. Aparajita goes up and forwards her hand to Akshay. He says Goons may enter anytime so leave from here and save Chavi. Aparajita tells him they won't leave without him. Akshay holds her hand. Goons enter the kitchen breaking door. Akshay goes out with help of Aparajita. Disha, Nia, and Asha lock goons inside the kitchen. Amma thinks Aparajita will save her husband and kids, I know that Aparajita may do her fast and hope her health doesn't deteriorate in this struggle. Aparajita feels dizzy and falls unconscious. Akshay feels worried and he makes her drink water. Asha, Disha, and Nia come there. Nia asks if aunty does fast. Disha says she didn't. Akshay says she kept the fast. Nia says you broke her fast. Akshay says he did to help her.
Mohini calls Manish and tells him that Nia informed her that Akshay is safe. Manish asks how it happened. Mohini says don't know but he got saved. Sunil Thakur calls the police team to come to his office. Manish tells Mohini that he will inform Akshay that Chavi is trapped. Mohini says Akshay is trapped with Aparajita and her kids and doesn't know how Aparajita always stuck with him. Aparajita is about to fall but Akshay holds her in time. Nia receives Mohini's call. She informs Akshay about it.
Disha and Asha support Aparajita. Akshay attends Mohini's call and tells her that they got saved because of Aparajita and they have to find out about Chavi. Mohini indirectly tells him Veer and Chavi are stuck in a problem with their stupidity. Goons corner Veer and Chavi. Veer tries to fight with them but they overpower him and take them with them. Akshay asks Mohini to tell him the location of Chavi. Mohini says Sunil is sending the police team and they will save them so don't take the risk. Manish says police traced the location. Aparajita takes the phone from Akshay and pleads with Mohini to tell her Chavi's location.
Mohini asks her to return the phone to her husband. Akshay takes the phone and asks requests Mohini. Mohini tells him Chavi's location. She asks him to reach home soon to break her fast. He scolds her for talking about breaking fast when his daughter is in danger. He cuts the call. Sunil asks the commissioner to come with him to the location. Commissioner agrees. Mohini tells Manish that they have to go with them. Manish asks why. Mohini says she will prove that she can give her life to Akshay and hope these recent happening doesn't soften Akshay's feelings for Aparajita.
Aparajita and others hear Goons are coming there. They go to the van. Aparajita asks Disha to sit back and asks Akshay to sit beside her. Disha goes back. Akshay sits beside Aparajita. Van doesn't get started. Goons come there. Disha and Akshay beat goons. Van gets started. Aparajita calls them. Disha goes to Akshay and tells him that Van is ready. They leave in a van.
Goons take Chavi and Veer to the roof of the under-construction building and tie them to iron rods. Akshay praises Disha's bravery. Asha asks Aparajita to turn on the radio to know what's happening in the city. Aparajita turns on the radio. The reporter says some areas are still at risk. Goon tries to misbehave with Chavi. Veer warns him to stay away from Chavi. They hear Veer. Aparajita prays to God for Chavi's mistake. Akshay says it's all happened because of that Veer. The next day, Goon tells Veer that they will kill Chavi and send the video to his dad then he will understand the seriousness.
Chavi begs them to not harm them. Aparajita and others reach the spot. Akshay asks Aparajita to stay with the kids but Aparajita says she can't be fine until she saves Chavi. Asha asks them to stop their fight and advises them to listen to the message on the radio. The reporter tells the areas which are fine. Aparajita asks her children to reach home and she and Akshay rush to save Chavi. Veer warns the Goons to leave Chavi but the Goons untie Chavi to kill her.
Episode ends.
The episode starts with Aparajita saying to others that Chavi and Veer's phones are not connecting. Akshay says let's go to save them. They are about to leave when they notice Goons. They run to the kitchen and place heavy things near the door. Aparajita feels dizzy but she says she has to save Chavi. Akshay says we have to save Chavi and I'm her father and it's my responsibility. Aparajita says they have to escape from here to save Chavi. She sees an unconscious man and tells them that they can escape from the way he came. Asha says it's risky. Asha notices blood in Nia's hand and asks her about it. Nia says it's not her blood. They notice Akshay is hurt. Aparajita ties cloth to Akshay tearing her saree. Disha helps her. Akshay gets touched.
Guffran tells Dadi that signals came. He calls Aparajita and asks if the kids are fine. Aparajita says all kids are fine and we need to rush to save Chavi. Dadi asks where is Chavi. Aparajita assures her that she will save all. Dadi says to Aparajita that she is worried about Akshay. Akshay takes the phone and tells her that he is fine and his daughter saved him. He asks Amma to inform Mohini that he is fine. They hear Goons trying to break the door. Akshay asks Asha to go out first but Asha denies it. Disha comes forward. Akshay asks Disha to take his help and tells her that he won't drop her and asks her to trust him. Disha tells him she can't trust him anymore. Goon receives a call from the opposition party leader. Goon tells him that they find Veer and asks if he wants them to bring him. The opposition leader asks them to observe Veer's moves and he asks them to send Veer video. Goon agrees and they take Veer and Chavi's video. Chavi says she won't leave and asks him to allow her to call his mother. Veer says no, as your mom comes here and takes you with her so wait until the moon rises. Chavi looks on.
Also Check: