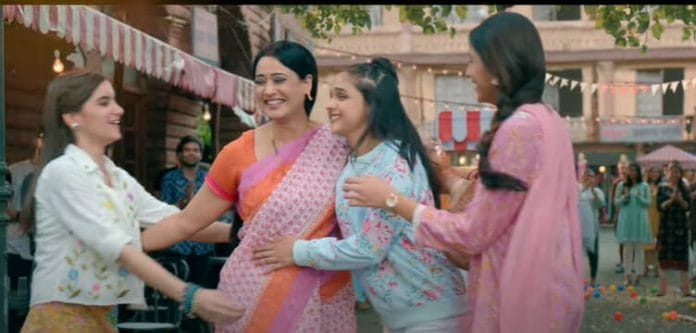 Main Hoon Aparajita 25th November 2022 Written Update On TellyExpress.com
The episode starts with The goon untying Chavi. Veer threatens to kill them if they harm Chavi. The goon says your dad didn't listen to our demand so it's needed. Goon is about to throw Chavi from the roof. Veer shouts to leave Chavi but he didn't and the other goon beats him. Akshay and Aparajita go upstairs. Aparajita throws a bottle at the goon, it hits his head and he leaves Chavi's hand. Chavi hugs Aparajita. Akshay thrashes the remaining goons and unties Veer. A few more goons come upstairs and attack them. Akshay collapses onto the floor. Veer stops goons from reaching Chavi. Some goon tries to hurt Akshay but Aparajita stops him by throwing a bottle at him. Mohini, Manish, Sunil, and the police team reach there. Mohini goes to Akshay.
Sunil asks Veer if he is fine. Veer rushes to Chavi. He hugs her and tells her that glad you're fine and if something happens to you then I may die along with you and he tells her that he can't live without her and proposes to her that he wants to marry her. Sunil slaps Veer and scolds him for going out without listening to him. Aparajita tells Sunil to talk with Veer after reaching home. Veer apologises to Aparajita and tells her that he called Chavi to meet her and promises Aparajita that he will keep Chavi happy all the life by marrying her. Sunil asks Veer if he forgot his parents for a girl. Akshay stops Sunil and tells him that Veer is a diamond and he can escape once he got released but he didn't. Sunil says it's enough and leaves with his manager. Others leave from there. Veer thrashes the goon who beat him. Aparajita notices it. She tries to stop Veer but he didn't and throws him from the roof. Akshay and others come there and ask what happened. Veer says nothing. Aparajita stands shocked.
Disha drops Nia. Nia asks them to come inside the house until Aparajita return. Disha recalls how Mohini oust them. Nia asks them to come inside for the bond they have. Amma from upstairs asks them to come inside. Disha denies. Dadi says she will come downstairs then Disha agrees to enter the home.
Media people cover Sunil with their questions. Sunil blames the Opposition leader for the riots. Chavi apologises to Aparajita for meeting Veer without informing her. Aparajita sees Veer and tells Chavi that they can talk after reaching home. Akshay comes to Chavi and asks if she is fine. Chavi signs she is fine. Akshay tells her how much he is worried. Chavi holds Aparajita. Nia calls Mohini. Mohini tells Nia that everyone is safe. Media people ask Mla who controlled the situation in the building. The manager tells them it's Aparajita and Akshay who reached before and handled the situation. Media people cover Aparajita and Akshay. They applaud them considering them as couple. Aparajita is about to say that they are not a couple. Akshay says they are divorced. Media people praise their coordination and ask why they got separated. Akshay says it's personal and asks them to leave. Media people leave. Akshay offers to drop Aparajita and Chavi. Aparajita denies it and tells him that police will drop them and she thanks Akshay for helping her to save her children. Akshay stops her holding her hand. Mohini gets upset. Akshay praises Aparajita and thanks her. He tells Aparajita that he wants to be part of his children's life and requests her to give him a chance.
Episode ends.
Also Check: