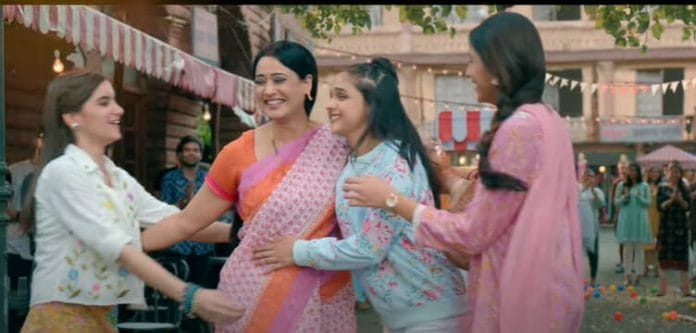 Main Hoon Aparajita 26th October 2022 Written Update On TellyExpress.com
The episode starts with Akshay taking away Disha. Disha tries to resist Akshay but it is of no use. Akshay locks up Disha in a room. Aparajita asks Akshay to open the door. Akshay doesn't listen to her. Mohini says to Manish on the phone. She says it took a lot of effort to strike on Aparajita's weakness. Mohini says she is seeing the results of her efforts. Aparajita asks Akshay for the keys but he doesn't give her the keys. Aparajita asks what did Disha do? Akshay reminds Aparajita of Disha's anger. Aparajita says Disha is angry because of him as he left her when she is young.
Mohini says to Aparajita that she is wasting time and reminds Aparajita what the inspector said. Mohini says to Aparajita that she can make the case go away if she wants. Aparajita asks Mohini what does she want and says she can do anything for her children. Mohini says she has to leave this house today. Mohini gives a choice to Aparajita to choose between the house and her daughter. Aparajita gets into a dilemma. Disha searches the room for the spare key.
Aparajita unlocks Disha's room. Disha hugs Aparajita. Aparajita brings Disha downstairs. Chavi brings Amma to Hall. Amma asks who's shouting. That time lady Lawyer comes there and asks Aparajita to sign some documents and assures her that no one can send her and her daughters from the house. Amma and Disha feel happy. Aparajita tears the documents.
Disha asks why she is doing it. Aparajita tells the Lawyer that they are backing out of the case. The lawyer says ok and leaves. It's shown that Aparajita tells Akshay that she can do anything for her kids. Akshay asks Aparajita to sign the papers stating she doesn't have any rights in the house to save Disha. Aparajita signs the papers and leaves taking Disha's room keys. Akshay and Mohini feel happy seeing her sign. They hug each other.
Aparajita tells Amma that she decided that they won't stay in the house anymore. Disha says it's their house. Aparajita says they have to leave the house. Amma says I will come with you daughter. Akshay says your daughter is leaving so let her leave and stop this daughter drama. Aparajita asks him to at least become a good son as he fails to become a good husband and father. Akshay asks her to stop lecturing him. He asks her to leave the house soon. Amma says he can't do anything in the house against her wishes.
Akshay shows her the documents and tells her that it's a house document that your daughter signed so now everything is mine so vacate the house before Police come to arrest Disha. They are about to leave. Akshay stops Chavi and asks her to stay with him and tells her that he will take good care of her. He requests her to stay with him and calls her dad's daughter. Chavi says she is the daughter of her mother. Aparajita gets happy tears and she hugs Chavi.
Episode ends.
The episode starts with Disha revealing to Aparajita that Vicky tried to kiss Chavi forcefully. Aparajita gets shocked. Mohini says to Aparajita that her daughters are lying. Mohini asks Aparajita to ask her guests to learn the truth. She points to Aparajita's brought up and calls her daughters characterless. Aparajita slaps Mohini. Akshay returns home and witnesses it. He supports Mohini and confronts Aparajita about why she is misbehaving with Mohini. Mohini stops Akshay and tells him that they need to maintain their status. She asks guests to leave saying the party is over. Aparajita asks Chavi to not cry and she tells her that she trusts her. She asks Amma and Disha to take Chavi and Asha inside and it's needed for Mohini to know what happens if she messes up with my daughters. Mohini closes the door once guests leave the house.
Aparajita asks where is that guy who doesn't know how to respect a woman. Mohini says he lands up in the hospital because of your daughter. She tells Akshay that he is an innocent boy and we lost our respect. Aparajita says true, today we lost respect with the incident that happened to Chavi. Akshay asks Aparajita what happened to Chavi. Aparajita reveals to him how Vicky tried to kiss Chavi forcefully. Akshay is taken aback. He asks Mohini about it. Mohini says she is lying and I have a daughter and it never happened with my daughter. Aparajita says I'm feeling pity for your daughter to have a mother like you and will you leave your daughter in between drunken people. Akshay asks her to not talk about his daughter. Aparajita says you don't want me to talk but here your other daughter's experiencing the pain. Mohini says Chavi enjoyed the party and she showed interest in that guy and Aparajita doesn't teach limits to her kids. Aparajita holds Mohini's hand and says they know their limits since childhood as they were raised without a father and she warns Mohini to not talk bad about her daughter. Akshay makes Aparajita leave Mohini's hand.
Also Check: