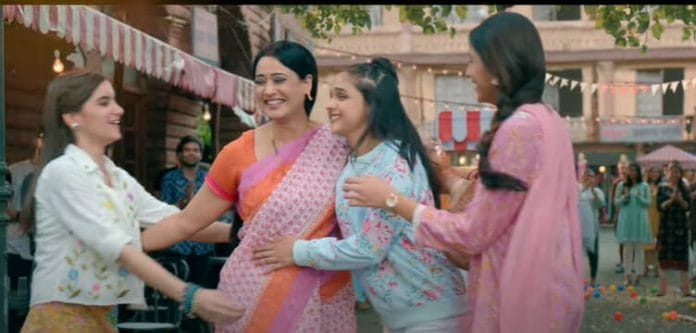 Main Hoon Aparajita 3rd November 2022 Written Update On TellyExpress.com
The episode starts with Aparajita on the call asking Asha to stop Mohini from coming upstairs. Asha throws the ball at the vase. The vase falls on the floor. Mohini goes downstairs to scold the kids who threw the ball inside. Disha throws the charger up but Aparajita fails to catch it. Mohini sees there is no one outside and goes upstairs again. Asha on call warns her mother and sisters to finish their work soon as she can't stop Mohini anymore. Aparajita catches the charges and hands it to Amma. She assures her that they will take her soon and that Mohini. Amma says she will handle Mohini and hides the phone. Mohini enters the room. She asks what's she doing near the window and asks if she is waiting for her daughter. Amma says you didn't do good by separating me from my daughter. Mohini tries to warn her but she acts sweetly with Amma noticing Akshay's entry. She tells her she can get rest by staying upstairs. Amma says she will settle things soon. Akshay asks what happened. Mohini says I'm taking good care of Amma but she is cursing me. Akshay says he will talk to her.
Akshay tells Amma that Mohini did correct by shifting her to an upstairs room, in this way you can get rest and Aparajita can't come here. He says once I lost my mom to Aparajita but not anymore. Akshay says you're staying with me so my decision is final and Mohini is innocent. Amma mocks Akshay for believing Mohini. Akshay asks her to take a rest and leaves the room. Mohini says to Amma that she can't do anything by complaining to her son. She promises Amma that she won't let her meet Aparajita but will inform her every day how she is ruining Aparajita and her daughter's life. Amma reminds her that she too has a daughter, and hopes she won't get published for your crimes. Mohini leaves locking the room.
Chavi, Aparajita, and Disha place food on the mat. Asha asks Aparajita can't they afford a dining table. Chavi asks her to control her desires. Aparajita says it's good to dream and one day they can get the things they want. Disha, Chavi, and Asha smile.
Akshay on video call talks to his daughter and promises her that he won't inform anything to Mohini. His daughter thanks him and tells him that she is coming in 2 days to surprise Mohini. Akshay tells her he will receive her from the airport. She agrees and disconnects the call. Mohini comes there and asks with whom he is talking? Akshay says nothing important. He asks her to send Aparajita things to Aparajita's place. Mohini asks why he is caring more about them. Akshay says he cares for kids, not for Aparajita. He asks her to keep it easy as Aparajita left the house. He leaves. Mohini decides to teach a lesson to Aparajita for staying near them.
Aparajita meets the Bank manager and asks for a 25 lakhs loan showing her laundry business IT returns and tells him that she wants to expand her business. The bank manager refuses to grant her a loan and tells her that they can't sanction a loan as there is no property in her name. Aparajita says you don't believe in women that's why you're rejecting loan but I will prove you wrong by expanding the business.
Mohini makes her workers throw Aparajita and her daughter's things on road. She tells them to clear the garbage. Asha and Chavi see their things. Asha calls Disha. Aparajita comes out of the bank. She notices shop keeper is about to cheat on the girl by asking her to come in their car to draw money. Aparajita is unaware that she is Akshay's daughter. Disha comes out and tries to stop Mohini. Mohini men push her. Chavi and Asha support her. They say let's call mom but Disha stops them saying Aparajita is in the bank. Disha, Chavi, and Asha pull their mom's saree from Mohini's men. Chavi gets a call and goes aside. The shopkeeper sends the girl with his men and signs him. Aparajita notices it and stops the person from taking the girl with him in his van.
Episode ends.
Also Check: