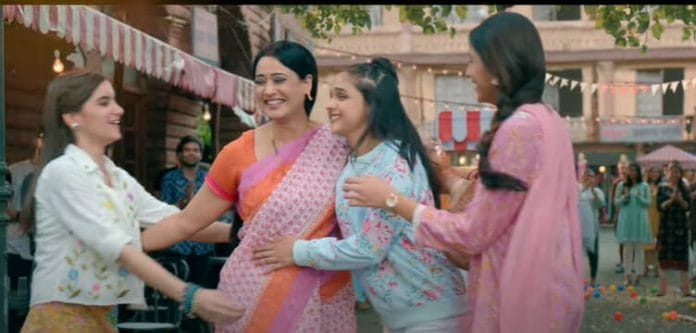 Main Hoon Aparajita 6th November 2022 Written Update on TellyExpress.com
The episode starts with Disha and Chavi recalling Asha's words that Nia is looking older than me like Dishu's age and when Dad and Mohini got married I was about to be born then how can she be older than me? Aparajita comes there. She asks them where is Asha. They stay silent. Aparajita calls Asha. Asha comes there. She gives a milkshake to her. Aparajita tells them that Nia's entry can't change anything in their life with an example. She says Nia is a good girl. Chavi says Nia makes them recall what they lost. Aparajita says it's not Nia's mistake and you guys can become friends too so drink the milkshake or I will end it. They drink it happily. Nia watches them from her balcony and feels happy. Chavi receives Veer's message to come out. Chavi goes outside telling her mom that she will return in 2 minutes.
Chavi notices Asha's cycle and rings the bell. Asha hears it and says her cycle sound is coming from outside. Disha tells her it's just her imagination. Aparajita promises Asha to bring a new cycle. Asha feels happy. Chavi sees Veer with boxes. She asks him to leave before her mom catches him. Aparajita goes to check on Chavi. Veer tells Chavi that she is special to him and he likes her so much. He asks her to be with him and assures her he will make her family agree to their alliance. He goes closer to her. Chavi closes her eyes. Aparajita comes out and she notices boxes. She asks Chavi what are they. Chavi says they are here when I come out and I recognised Asha's cycle but don't know what are in the boxes. Asha comes out and feels happy seeing her cycle. Chavi feels tense thinking what's in the boxes.
Dadi mocks Akshay for supporting Mohini who's risking his daughter's life by placing a snake in the shop. Akshay tells her he is not happy with Mohini's act and scolded her. He says you and Aparajita may doubt my love for my daughters but I love them so much. Dadi says you won't leave her pallu in this birth. Manish comes there with luggage and calls Akshay. Akshay meets him and asks him about bags. Manish reveals him he came to stay with them for sometime as renovations are happening at his house. Akshay says it's your house and you can stay with the right. Dadi mocks his statement. Akshay asks him to meet Mohini. Manish agrees and goes to meet her.
Nia takes the book from the shelf. Photo of Aparajita's daughters falling from it. She feels it's cute seeing their photo and checks their Instagram profiles. Nia thinks about whether to follow them or not. Manish and Akshay drink alcohol. Manish asks him why he looks sad. Akshay reveals him he is unhappy with Mohini's behavior toward his kids. He asks him if he knows about the party incident. Manish acts like he doesn't know and tells him that he fixed his meeting which is tomorrow. Akshay thanks him and reveals to him he can handle anything but he can't handle his daughter's suffering, especially Chavi's.
Manish sees Mohini's wound and teases her. Manish helps Mohini apply the ointment. Manish says to Mohini about Akshay asking him about the party. Mohini asks Akshay what did he say? Manish says he denied everything. Mohini thanks Manish. She says they should not underestimate Aparajita and says she made a mistake by underestimating her. Mohini says she doesn't know how to deal with Aparajita. Manish says with patience we can confront her. Manish reminds Mohini that Aparajita's weakness is her daughter's. Mohini agrees. Manish says we are going to handle Aparajita and her daughters unitedly. Mohini agrees.
Aparajita looks at the boxes that are left infront of her laundry. Asha stops Aparjita from looking at them saying this might be a new plan of Mohini. Disha says Mohini will not something this soon and says to first check out what is in the boxes. Aparajita agrees and looks the boxes. The girls also open the boxes and see that they are all the things that an unknown man bought from the Mohini. The girls think why the scrap dealer left them here as he doesn't even know them. Chavi says everybody will not be like Mohini. Asha sees Aparajita's money box and they see that there is nearly Rs 40000 in it.
Disha says they got well wishes. Asha asks who can it be. Disha says they have to thank that person. They thank their well wishes. Chavi thinks what if mom got doubt? Aparajita says whoever may did it know their connection from these things and we have to know who did it to know their intentions. Chavi says she is correct and leaves. Aparajita thinks about why she feels Chavi knows about the person who sends these things. She thinks to know the motive. Chavi enters the bathroom. She calls Veer. Veer asks her to not thank him. He tells her she is special to him and tells her he will apologise to his mom if she wants. Chavi says mom will know about you if you come here so don't think to come here. Aparajita stays near the bathroom and thinks about whom Chavi is talking to.
Episode ends.
Also See