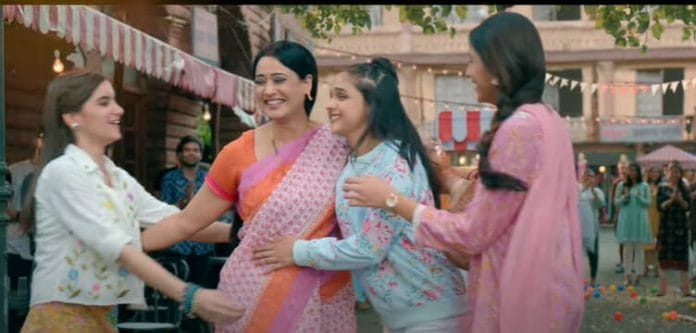 Main Hoon Aparajita 7th January 2023 Written Update On TellyExpress.com
The episode starts with Aparajita thinking about Guruji's words that she needs to do tapasya to save Akshay. She receives Disha's call. Disha asks her if she saw the CCTV footage they sent and tells her that they are unable to see the truck number. Aparajita asks them to check near shop CCTV footage. Disha says it's an idea and tells her that they will take police help. Amma calls Apatajita and says 4 hours left for tapasya and asks her to sit in the Tapasya. Aparajita says she will go out and return in a while to finish her work. Guruji comes there and says you can't leave out as it's not normal tapasya and you have to perform it as Akshay's wife. Disha and Nia hear everything on call. Amma asks Aparajita to listen to Guruji. Aparajita tells Disha that she can't come out. Disha says they will manage and disconnects the call. Chavi comes there and assures Aparajita that Veer will bring Akshay home safely. Aparajita thinks about how to tell you that I doubt Veer is behind Akshay's missing, and hopes Mohini finds Akshay.
Sunil beats Veer for kidnapping Akshay. Veer says he did it to stop Akshay from revealing the truth to Chavi. Sunil says you become mad in Chavi and repeating the same things you did in Rithika's case and it's my mistake and it won't get repeated if I murdered Chavi before. Veer gets mad at Sunil. He strangles his neck and warns him to never come in-between him and Chavi. He calls someone and asks him to trace who send the video to Aparajita. Mohini comes there. She threatens Veer to expose him in front of Chavi if he didn't tell her about Akshay. Veer lies to her he doesn't know about Akshay. Disha and Nia go to the police station to file a complaint but Si denies to register a complaint before 24 hours of missing. Disha and Nia are about to leave. Lady si stops them and assures to help them. Mohini asks Veer where he went in the middle of the party and I know you kidnapped Akshay knowing about Rithika's confession video. Veer shows her face proof that he was at the party and gains her trust. Mohini believes him. Sunil assures her to help her. Mohini leaves. Sunil tells Veer that they can fool but not Aparajita. Veer calls his man and asks him to reduce the freezer temperature. He tells Sunil that Aparajita and her family will get Akshay's dead body.
Chavi requests Aparajita to do the tapasya for Akshay's wellbeing. Aparajita stays silent. Disha and Nia search the truck with the Lady inspector's help but it's Empty. They decide to check the shop's Cctv footage to see the truck number to trace it correctly. The next day, Mohini returns home. Aparajita asks Mohini if she gets any information from Veer. Mohini says Veer is not behind Akshay's missing. Aparajita asks how she trusts his words. Mohini says Veer can't lie to her. Amma comes there and asks if they find out about Akshay. Mohini says Sunil promised to help us. Aparajita says Akshay might be in a truck according to Guruji's prediction. Amma says only Tapasya can save Akshay. Mohini says she will do tapasya as Akshay's wife. Disha, Nia, and the Lady inspector notice shops are closed. Si comes there and tells them that he came to help them unofficially. Disha thanks him but she is unaware that he is Veer's man. Si messages to Veer.
Veer calls his goon and tells him to lower the temperature. The goon reminds Veer that Akshay will die within 2 hrs if we do that. Veer says then let him die and says Akshay's daughters know about the truck and asks his goon to send Akshay to heaven before they find the truck.
Dadi tries to convince Aparajita to do the Tapasya. Aparajita says she wants to do the Tapasya because he is Dadi's son and he is the father of her daughter's but she couldn't do it as Akshay's wife as she doesn't think of him as her husband and he doesn't think of her as his wife. Aparajita asks God to show the way on what she has to do? A flower falls near Aparajita. Guruji says this is a sign for her to do Tapasya and reminds Aparajita that there is not much time to do Tapasya and she has to make the decision quickly.
Mohini takes the flower that has fallen near Aparajita. Mohini says everyone sees her ego but no one can see her love and says now they can see that nobody can love Akshay more than her.
Mohini puts aside her ego and asks Aparajita to save Akshay and asks Aparajita to do the Tapasya. Mohini pleads with Aparajita. Aparajita thinks it's a sign from God and agrees to do Tapasya. Mohini thanks Aparajita.
Episode ends.
Also Check: