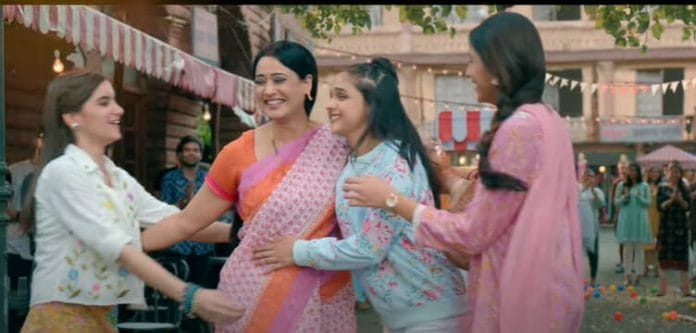 Main Hoon Aparajita 7th November 2022 Written Update On TellyExpress.com
The episode starts with Aparajita overhearing Chavi saying to Veer on the call not to come to their place. Aparajita thinks Chavi is talking to Akshay. Later Aparajita sees Chavi does not take Akshay's call even if he is calling her. Aparajita asks Chavi why is her father calling her? Chavi says she doesn't know. Aparajita asks Chavi if she doesn't know why Akshay is calling her? Chavi says yes. Aparajita thinks Akshay sent the money to get close to Chavi and thinks she has to find out.
Dadi talks to Aparajita about Mohini on the phone. Dadi hears someone coming and hides the phone. Nia comes and asks Dadi if they can invite Disha, Chavi, and Asha. Dadi says she has to first take permission from her mom. Nia says she will go and talk to Mohini. Dadi says to Aparajita that Nia came. Dadi and Aparajita talk about Nia. Dadi says at least some bad qualities should have come from her mother. Aparajita says nothing like that will happen and says Akshay also has to get some good qualities from her but he didn't. Dadi stays silent hearing it.
Akshay comes to Mohini's room. Nia says to Akshay that she wants to invite Chavi, Disha, and Asha to lunch but Mohini is not allowing it. Akshay says to Mohini that Nia has grown up and says she can decide what she wants. Akshay permits Nia. Nia thanks Akshay and leaves from there. Mohini asks Akshay if he is using Nia to get close to Chavi. Akshay says he is not doing anything like that and says he can invite the girls here whenever he wants. Mohini says to Akshay that he can do whatever he wants with his daughters but she will not allow Nia to get close to Aparajita and her daughters. Akshay says it is her wish.
Veer says to Chavi on the phone that he wants to meet her. Chavi says it's not possible. Aparajita comes and asks Chavi to go to college and says she has to pass the exams. Aparajita sees Chavi is sad. Aparajita asks Chavi what happened? Chavi says she doesn't want to go the college and says it will be weird as all her classmates go to the upper classes and she has to sit in Disha's class. Aparajita agrees and says this is way of the world. Aparajita asks Chavi to write what the people comment about her as it will make her heart let go of the burden. Aparajita starts writing all the comments that people passed on her. Chavi doesn't even write one thing on the paper. Aparajita shows this and says you will be affected only if you allow them and asks Chavi not to allow them. Chavi agrees and decides to go to college.
The investor praises Aparajita's presentation and says she will send her team for investigation and says after the formalities are completed. They will go ahead. Aparajita thanks the investor. The investor gives an advice to Aparajita saying in business it is not good to have emotions. Aparajita comments on it.
Chavi gets bullied by all. the girls in the college say Chavi competes with her sisters but fails every time in the exams. Chavi runs away recalling their bullying. Aparajita comes to the college to share the good news with the girls. Aparajita says to the girls they have found an investor. Aparajita asks Disha where is Chavi? Disha says we didn't see her. Aparajita says Chavi came to college. Chavi goes and hugs Veer thinking of the bullying. Aparajita decides to search for Chavi in the college. Disha and Asha also join Aparajita to search for Chavi.
Veer and Chavi sit in a restaurant. Veer says to Chavi if she has that much problem in the college why can't she leave the college? Chavi says Aparajita paid a lot for this college and says if she joins another college then there will be more fees to be paid. Veer asks Chavi not to think about the fee as he can handle it. Chavi asks Veer what are they going to say to mom? Veer sees Chavi is worried and tries to cheer her up. Chavi sees Vicky in the restaurant who misbehaved with her at the party. Chavi recalls about the incident and tries to walk away. Chavi's hand accidentally hits the coffee cup and it falls down. Disha says she can't connect with Chavi's phone. Aparajita recalls Akshay calling her and Chavi not picking up and video calls Akshay to see him. Akshay asks Aparajita why did she call her? Aparajita asks Akshay where is Disha? Aparajita blames Akshay and says after he came Chavi started lying to her and asks if he is the one who gave the money and the things. Akshay says he is in a meeting and Chavi is not with her. He also doesn't know what she is talking about? Akshay asks Aparajita to go and find Chavi. Aparajita thinks if it is not Akshay who sent those things then who is it? Aparajita cuts the call. Akshay leaves from the meeting worried about Chavi. Disha thinks Aparajita might have gone somewhere. Aparajita thinks she has to find out what is going on in Chavi's mind.
Episode ends.
Also Check: