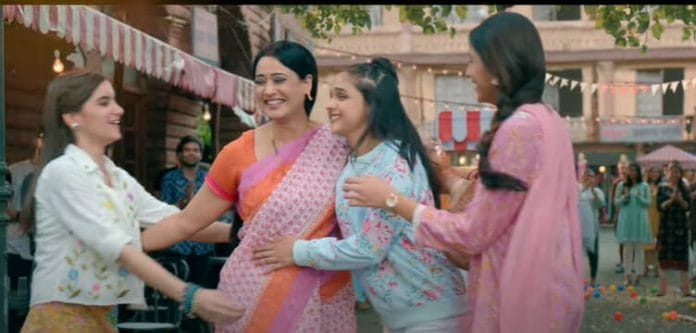 Main Hoon Aparajita 8th November 2022 Written Update On TellyExpress.com
The episode starts with Disha saying Chavi might be in the temple and says she will go and look for her. Aparajita worries about Chavi. Veer comes after Chavi who came from the restaurant. Veer apologises to Chavi and asks what did he do? Chavi says it is not his fault and says he saw the person who misbehaved with her. Veer asks Chavi what is she talking about? Chavi explains to Veer how someone misbehaved with her in the party. Veer asks Chavi who is the person? Chavi asks Veer not to do anything. Veer punches the bike's mirror in anger. Chavi sees Vicky on the road. Veer also looks at Vicky. Chavi asks Veer not to do anything and leaves from there.
Nia comes to the laundry to invite the girls. Disha sees Nia and gets angry. Nia says to Disha that she came here to invite them as Aparajita saved Mohini. Disha says if she was in Aparajita's position she wouldn't have even done a small effort to save Mohini and asks Nia to leave from there. Nia asks Disha why is she talking rudely with her? Disha sees Chavi and asks Chavi where did she go? Asha also asks Chavi why was she not in college? Chavi says she went to college and says how she was bullied in college. Disha asks Chavi for their names. Chavi says to leave it. Asha asks Chavi to go to head office. Chavi says there is no need for that. Disha says we will not go and asks if she is happy. Disha and Asha hug Chavi. Nia seeing this also asks them if she can join and hugs them. Disha and Asha leave the group hug. Akshay comes to the laundry. Akshay asks Chavi to tell someone if she goes out as everyone will be worried about her. Akshay asks Nia if she met them. Nia nods her head. Mohini sees Akshay and Nia near the laundry and thinks what are they doing there? Akshay and Nia leave from there. Aparajita says to Chavi I agree it's bad to get bullied in college but why you didn't return home from college. Chavi lies she went to the temple. Aparajita thinks about why Chavi is lying and what's she hiding.
Mohini asks Nia why she went to meet Aparajita and her sisters without listening to her. Nia says it's her right to meet her sisters. Mohini is about to scold her but Akshay stops her. Aparajita tells Chavi about the incident what happens if they lie at home. Chavi gets tensed. She tells Aparajita that she will sit outside. Aparajita asks Chavi if she didn't bring prasad from the mandir. Chavi says she forgot and leaves.
Akshay says to Amma that Aparajita feels her brought up is good but won't you feel she is wrong after today's incident? Amma says kids are growing up so they get influenced by people they meet and there is no mistake of Aparajita in it. Akshay asks what medicine she needs to take. Amma says you don't know anything about me and takes her tablets by herself. Aparajita notices her kids are sleeping. She takes Chavi's phone to check it. She notices it's locked with a password. Aparajita calls Amma and tells her that Chavi is hiding something and lying to them. Amma asks if any guy entered her life. Aparajita says it's not possible. Amma says it's possible as we can't predict kids so confront her directly. Aparajita says they can't confront Chavi directly but I will find out what's Chavi hiding in another way. Later Aparajita couldn't sleep thinking about her kids. She prays to god to protect them.
The next day Chavi on the call tells Veer that she can't come to meet him. Veer says it's on your way to college so come to see my surprise for you. Chavi agrees. Asha calls Chavi to come. Chavi tells her that she will come later as she has to prepare for Viva. Asha agrees and leaves for college after informing Aparajita. Aparajita calls Amma and tells her that she will follow Chavi to know whom she is going to meet.
Aparajita follows Chavi's auto but she lost Chavi's auto when her auto crashes with someone. Aparajita pays money to the auto driver and searches for Chavi. Chavi goes to the gym. She asks Veer why there is no one in the gym. Veer shows her the person who misbehaved with her in tied up state as her surprise. He tells to the guy that he will get punished for eyeing his girl. Vicky admits he tried to kiss her as Mohini asked him. Veer gives the rod to Chavi and asks her to vent her anger on him. Chavi says she can't. Veer says he will make her do it. Aparajita calls Amma and informs her that she missed Chavi. Veer makes her beat Vicky. Someone bumps into Aparajita. She drops her phone. Chavi tells Veer she can't do it. Aparajita hears her voice and enters the gym. Chavi and Veer get shocked by someone's entry.
Episode ends.
The episode starts with Aparajita overhearing Chavi saying to Veer on the call not to come to their place. Aparajita thinks Chavi is talking to Akshay. Later Aparajita sees Chavi does not take Akshay's call even if he is calling her. Aparajita asks Chavi why is her father calling her? Chavi says she doesn't know. Aparajita asks Chavi if she doesn't know why Akshay is calling her? Chavi says yes. Aparajita thinks Akshay sent the money to get close to Chavi and thinks she has to find out.
Dadi talks to Aparajita about Mohini on the phone. Dadi hears someone coming and hides the phone. Nia comes and asks Dadi if they can invite Disha, Chavi, and Asha. Dadi says she has to first take permission from her mom. Nia says she will go and talk to Mohini. Dadi says to Aparajita that Nia came. Dadi and Aparajita talk about Nia. Dadi says at least some bad qualities should have come from her mother. Aparajita says nothing like that will happen and says Akshay also has to get some good qualities from her but he didn't. Dadi stays silent hearing it.
Akshay comes to Mohini's room. Nia says to Akshay that she wants to invite Chavi, Disha, and Asha to lunch but Mohini is not allowing it. Akshay says to Mohini that Nia has grown up and says she can decide what she wants. Akshay permits Nia. Nia thanks Akshay and leaves from there. Mohini asks Akshay if he is using Nia to get close to Chavi. Akshay says he is not doing anything like that and says he can invite the girls here whenever he wants. Mohini says to Akshay that he can do whatever he wants with his daughters but she will not allow Nia to get close to Aparajita and her daughters. Akshay says it is her wish.
Also Check: