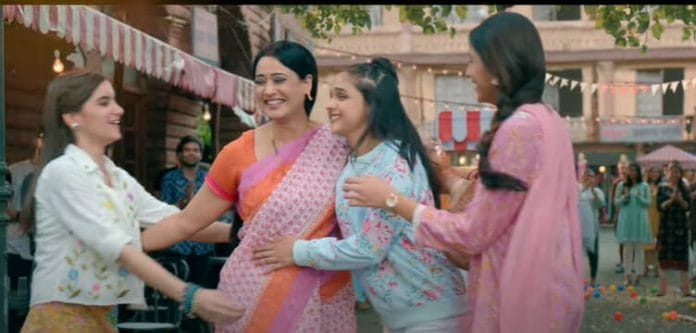 Main Hoon Aparajita 9th November 2022 Written Update On TellyExpress.com
The episode starts with Veer making Chavi beat Vicky with a rod. Chavi shouts to stop Veer and tells him that she can't do it. Aparajita hears Chavi's voice and goes in that way. Veer asks Chavi to not cry. He tells Chavi that Vicky needs to cry for misbehaving with her and he tells her he will teach a lesson to Vicky. She asks if it is needed. Veer says it's needed. He thrashes Vicky for touching his girl. Chavi gets impressed. Aparajita searches for Chavi and reaches the gym area. Veer beats Vicky badly. Chavi stops Veer holding his face. Veer asks Vicky to seek forgiveness from Chavi. Vicky apologizes to Chavi. Veer warns Vicky to not reveal the gym incident to anyone. Veer's friends come there and take Vicky with them.
Watchman doesn't allow Aparajita inside the gym. Aparajira asks him if any girls come here. He denies. She thinks Chavi won't come here. Veer says to Chavi that she changed him and asks her to not leave him ever. Chavi says she won't leave him but she needs to go now to her college. Aparajita tries her daughter's number. Chavi goes out. Veer offers to give lift but Chavi denies saying her mom won't like it and he didn't know her mom's anger. That time Chavi's phone rings. Aparajita hears Chavi's ringtone and she spots Chavi and asks where she went without going to college.
Veer stands in front of Chavi. Chavi requests him to not talk in front of her mom. Aparajita recognizes Veer. She asks Chavi if he is following her again to tease her. Veer says yes, I'm following Chavi to convey my apologies. Aparajita asks why didn't he come to the laundry in that case. Veer says I thought to apologise to you at the station itself but didn't do it thinking about my dad's reputation but I can't hold myself anymore that's why I returned your 40k along with your belongings learning your condition is not good and if possible forgive me. He leaves. Aparajita asks Chavi why she is talking to Veer. Chavi says he really came to seek forgiveness. Aparajita says they can't trust anyone.
Manish says to Akshay that they have to finalize the deal today itself. Akshay agrees. He sees Veer's photo with Minister and recognizes him. Akshay reveals to Manish that Veer misbehaved with Chavi and I can't work with them. Manish says he doesn't know about it but bought him to meet an influential man from Noida. Akshay refuses to meet him. Minister comes there and mocks Akshay for not handling his wife and daughters. Akshay warns Minister to keep his son away from his daughters. He leaves from there.
Asha and Disha discuss what to gift to Aparajita on her birthday. Chavi thinks about Veer. Aparajita comes to Chavi and says don't feel guilty for not telling me about Veer contacting you as I know about you and I trust that you won't go to meet him by hiding from me. Chavi nods yes. She hugs Aparajita and feels guilty for hiding Veer's matter from Aparajita. She decides to not meet Veer anymore and blocks his number. Aparajita tells Chavi that she is missing Amma and asks Chavi to sleep as she is not angry with her. Disha tells Asha that Dadi is the best gift to mom so let's kidnap Dadi. Asha smiles.
The next day, Aparajita smiles seeing the decorations in her room. She hears her daughters are coming. She acts like sleeping. They argue about whether to wake up Aparajita or not. Aparajita smiles hearing their argument and calls them inside. They enter inside with cake and wish her happy birthday. Aparajita feels happy and cuts the cake. Chavi takes photos and notices Veer's call. Someone knocks calling the bell. Chavi feels scared thinking if it's veer who came learning she blocked him. Asha says she will check who came. Chavi stops her.
Episode ends.
Also Check: