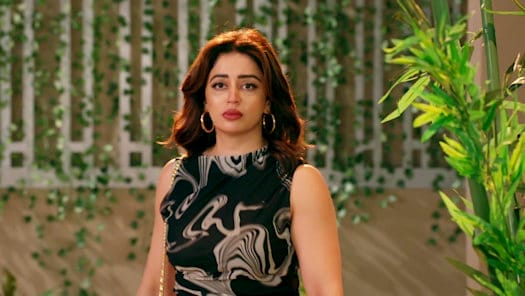 May I Come In Madam Spoilers, Upcoming Story, Latest Gossip , Future Story, Latest News and Upcoming Twist on tellyexpress.com

Star Bharat's show May I Come In Madam S2 is currently showing how Sanjana's company is running in loss and she asks Sajan for money loan. Will Sajan be able to keep up with the promise and arrange money for her?
In the previous episode, Sajan asked if he is only employee who needs to sacrifice for office or others will have to do so too. Sanjana says they did not talk about resignation but about cost cutting.
Chedy and Sanjana tell Sajan that if he has problem he can get the resignation letter. Sanjana asks Sajan to make wise choice.
Kashmira says Sajan that she wants to start new business. Sajan agrees to give jewelry her. Sanjana waits for Sajan near the lift.
Chedy drinks alcohol listening to romantic melodies and Kashmira's mother comes to meet him. At night Kashmira asks Sajan for her jewellery she has asked him to bring from locker. Sajan says he did not bring it today and she questions if he has sold her jewellery.
In the upcoming episode, Sanjana will ask Bhupesh if he has seen Sajan as she him entering lift but cannot find him. Sajan will be hiding below the table. Chedy and Banumati will plan to meet behind the latter's house. Sajan will says Sanjana not to go to Don as he will arrange the money. To know what's happening next stay tuned to this space.