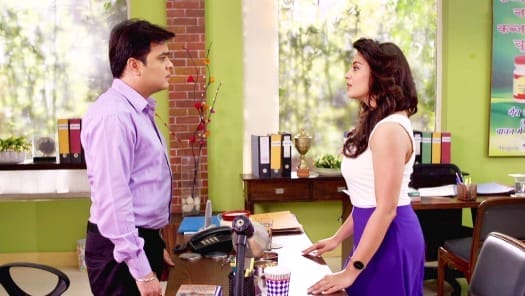 May I Come In Madam Spoilers, Upcoming Story, Latest Gossip , Future Story, Latest News and Upcoming Twist on tellyexpress.com

Star Bharat's show May I Come In Madam S2 is currently showing how Sajan was caught by dadi with Sanjana's swimsuit stuck on hand but he lies and escapes from situation. We will see him again landing in trouble as Sanjana asks him for huge loan for company's financial loss.
In the previous episode, Chedy told all the employees to sign and get bonus. Sajan denies to accept the Diwali bonus and wants to use it to make shelter home for donkeys who are left on road by people who are left by their owners.
Kashmira holds Sajan and he realises she is posssed by Dadi. Dadi makes Sajan takes his hand outside pocket and removes the swimsuit from his hands. Sajan lies that he had brought it for Kashmira.
Dadi ends up beating Sajan when he spells swimming wrong. Chedy asks Sanjana if she thinks staff will work after cost cutting. Sanjana says that they need to hand terminate letter to once who doesn't want to work. Chedy will ask Sajan to resign.
In the upcoming episode, Sanjana will tell Sajan that all her friends denied to help her. He will ask her what amount she needs. Sanjana will ask Sajan for loan of 25 lakhs. The latter will ask Khilone to help him arrange the amount but he will not be able to help. Later, Sanjana will get shocked to see Sajan ignoring her. To know what's happening next stay tuned to this space.