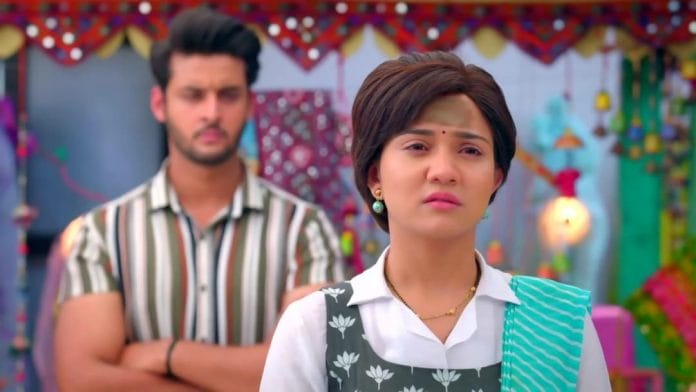 Meet 10th August 2022 Written Update On TellyExpress.com
The episode starts with Meet taking Raj to the hospital in ambulance. She prays that nothing should happen to him. Deep stops the car in midway and Isha asks him why did he stop the car here. Deep says this research topic is quite confidential. He will meet her team here and will go to the airport with them. He doesn't want Isha to get stuck in the traffic so she should go back. Isha asks but where are his team members. Deep says she just became his wife and started doubting him as if he is hiding something. Isha smiles and Deep says he never looked at any other women except her. Isha and Deep hug each other.
Deep says he will miss her a lot in these three months. Isha says she will miss him more. Isha gives him some letters which she wrote for him. She tells him to reply to all those letters everyday after reading one daily. Deep gets happy and Isha kisses on his cheek. He makes her sit in the car and she leaves. He says within three hours he is going to meet her again in the resort in Kasauli. This is the surprise Isha will get.
Manushi shows power of attorney papers to Kunal saying Manjari is going to sign it today after she will handover the kid to her. Manushi says it will give her the right to take financial decisions on behalf of Manjari and after Manjari's marriage with Meet Ahlawat she will easily live a lavish lifestyle using Ahlawats' money.
Kunal gets excited to know that and Meet Ahlawat talks to Deep over phone. Deep says he is heading towards the resort to surprise Isha now its Meet's responsibility to make sure Isha reaches the resort. Meet Ahlawat says certainly he will manage. Isha notices that Deep forgot to take the laddoos and she decides to give the laddoo box to him as soon as possible. Raj's health worsens and Meet worries for him.
Isha tries to call Deep to inform him that she is coming to him. But she sees that the phone is inside her purse. She tries to take the phone while driving the car. Deep walks on the road and orders a bouquet and card on call for Isha to surprise her. He tries to send a picture from his phone and finds a truck in front of him. He crosses it and Isha's phone falls off from her purse. She bends down to take it and accidentally hits Deep with her car. Deep gets injured and murmurs Isha. Isha gets scared and she leaves with her car without seeing him.
Meet Ahlawat tries to call Isha but sees Manjari's missed calls. He thinks maybe Manjari finally wants to confess she is Meet Hooda. Isha calls him and says what happened. She probably hit someone with her car while she was taking u-turn. Meet Ahlawat tells her that maybe she hit an object or a stone. Isha cries in fear and says she doesn't have guts to come out of the car to check whom she hit. Meet Ahlawat tells her to take anti anxiety medicine and tells her to go to the therapist in a cab.
Isha says hope she didn't hit any person. Meet Ahlawat goes to location where Deep met with an accident. He gets shocked to see Deep lying injured. Meet Ahlawat tells Deep he won't let anything happen to him. Deep asks him whether Isha knows that. Meet Ahlawat says no. Raj gets admitted to the same hospital where Deep gets admitted. Meet Ahlawat and Meet look stressed. Ahlawats ask the doctor about Raj's health and the latter says Raj suffered third heart attack and his life is in risk. Only one option is left that is heart transplant.
Babita pleads the doctor to save Raj at any cost. Doctor gets a call and says they got a heart donor but that heart is in Ambala hospital where a strike is going on. So it's tough to get the heart within four hours. Raj has only four hours after that he may die. Babita cries saying Raj helped so many people then whey he is not getting any help when he needs it. Ragini consoles her and Babita prays for Raj. Meet thinks she has to bring the heart from Ambala hospital immediately.
Episode ends
The episode starts with Barfi looking vulnerable and she vents out her anger in front of God. She holds a diya and says how dare Manjari insults her in front of her son. She recalls the drama on the wedding and says Deep went to jail despite being innocent and now its her turn to destroy Ahlawats. She vows to get Manjari out of the house within 24 hours. Ahlawats celebrate Rakhi festival. Masoom ties rakhi around Meet Ahlawat and Tej's hands. Raj tells her to tie rakhi around Meet's wrist too as sisters can also protect each other. Masoom leaves for Airport. Isha arrives and she ties rakhi. Ragini gets happy to see her happiness.
Meet says she will cook food for Isha and Deep but Isha says she has to make laddoos at home so she can't stay here for long. Ragini insists her but she denies. Raj says just how Isha and Deep are happy, he wants to see Meet happy with Meet Ahlawat. He tells them to get married again tomorrow. Meet Ahlawat thinks he won't remarry Meet until he learns whats her hidden motive. Meet thinks once she gets back her child she will surprise everyone by showing her son. Meet Ahlawat will be the happiest. Meet Ahlawat takes Deep aside and says he booked a resort for Deep and Isha for their short honeymoon. He tells Deep to lie to his family that he is going for research work then he can go to the resort with Isha on his way. Deep says he is the best friend one can get. Meet Ahlawat hugs him.
Also See: