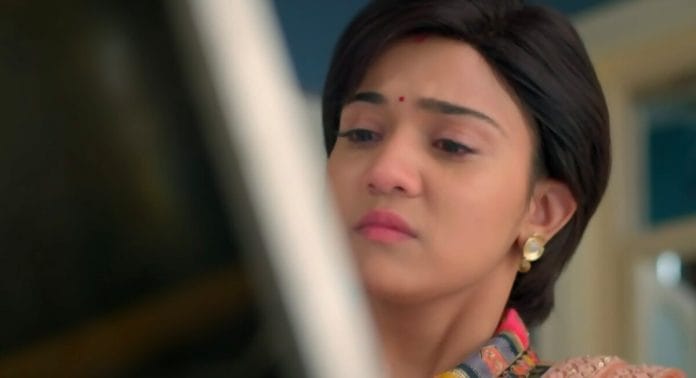 Meet 10th May 2022 Written Update On TellyExpress.com
The episode starts with Meet telling her husband not to panic, she will send the pendrive to the lab to check what's wrong in it. She wants to prove Raj's innocence. Meet Ahlawat replies but Raj will end up in trouble due to that. His family will be destroyed without him, Meet Ahlawat says they have to hide the proofs or they have to destroy it. They can't let the world see it else Raj will be behind bars. Meet calms him down but he gets restless and keeps on saying that he has to destroy the proof. Meet agrees with him to make him feel okay. They go to the garden area and Meet Ahlawat buries the bracelet and the pendrive in a plant pot. He does it in hurry and Meet asks him to relax. She assures him that noone will get to know about it.
Meet Ahlawat shares how his father is his inspiration and he can't live without him. He learned everything from his father, his teachings, his habits mean a lot to him. His father can't commit such a huge crime. He cries and Meet consoles him. Meet Ahlawat says noone should hear their talk. He tries to hide himself and Meet takes him to room. Meet Ahlawat looks shattered and broken. Meet comforts him and caresses his hair. He is about to leave but Meet back hugs him and kisses his neck. She makes him sit on bed and they hug each other. Meet kisses his forehead and cheek. They consummate.
Next day Meet Ahlawat wakes up from sleep and recalls the special night. Meet comes with breakfast for him. Meet Ahlawat talks about last night and Meet says they became one and they took a step further in their relationship. Meet says sometimes she can't believe that they used to hate each other. Meet Ahlawat adds then they got married and became friends. Then they started loving each other and now they are one. He thanks her for giving him emotional support. Meet tells him to get ready and he leaves. Meet recalls how she took out the pendrive from the plant pot and decides to give it to the lab for checking. She says hiding proof is not a solution but she has end Meet Ahlawat's fear. Raj will be proven innocent and noone will question him. She hopes that Meet Ahlawat will understand her point and will forgive her after knowing the truth. She can't keep the promise.
Raj talks to lawyers for Isha and Meet Ahlawat takes his blessings. Raj assures him that Isha will come back safely. Meet Ahlawat feels emotional. Meet there gives the pendrive to Sharma uncle as he is Raj's friend. Meet tells him to keep this thing a secret as she can't show the proof to the world. She just wants to know the truth and wants to prove that Raj didn't do anything. Sharmaji ensures her that he will not give the proof to anyone but will take the responsibility alone to check the video.
Episode ends
Also See: