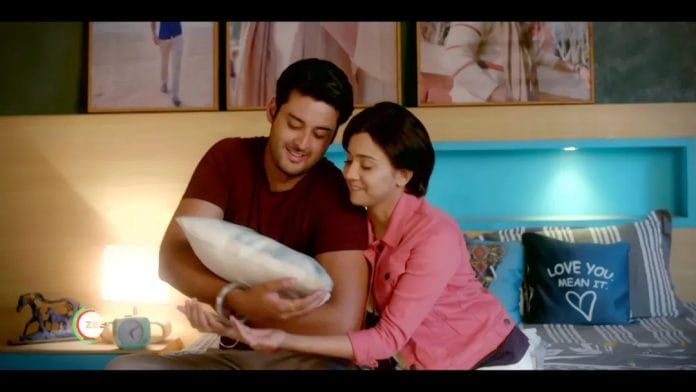 Meet 10th November 2022 Written Update On TellyExpress.com
The episode starts with Meet unhooking his watch with Meet's bracelet. Meet feels something is wrong as her Mangalsutra breaks. Laila sees Meet and Meet Ahlawat together. Meet Ahlawat says to Shyam to take Meet to Dadi's house. He agrees. Meet goes with Shyam.
Barfi sees that Neelam is not beside her and thinks about how did Laila know that Meet Ahlawat called her to the Office Godown. Barfi sees that Laila's dress is not here and understands Laila went to meet Meet Ahlawat and worries about it. Laila applies chloroform on the handkerchief and puts the handkerchief to Meet Ahlawat's nose from behind. Meet comes out of the card board box seeing Laila. Meet goes to Meet Ahlawat to see if he is alright or not as he smelled the handkerchief.
Babita asks Barfi where is she going at this time? Barfi says she just wants to see if the door is properly locked or not. Barfi asks Babita what is she doing here? Babita says she talked with Tej about Isha and she wanted to tell Ram and Ragini about Isha that's why she is here. Babita says to Barfi that the door is properly locked and asks Barfi to come.
Meet says to Laila that she didn't leave Meet Ahlawat. It is shown Meet asks Shyam to leave and says she will come with Meet Ahlawat. Shyam agrees. Meet Ahlawat calls for Meet. Meet checks on Meet Ahlawat and asks him to open his eyes. Laila sees Meet bring distracted and goes from there. Meet goes after Laila. Laila sees the bulb and hits it with a rock so that she can hide. Meet searches for Laila. Laila puts chloroform on the handkerchief to make Meet unconscious. Laila comes from behind but Meet sees Laila and gets into a scuffle with her. Laila pours water on the electricity board. The electricity goes off because of it. Laila hides from Meet. Laila comes from behind and makes Meet unconscious.
Laila says to Meet that from now on her life will be dark and leaves from there. Meet gets consciousness and hits Laila with a stick from behind. Meet goes to Meet Ahlawat and tries to wake him up. Meet makes Meet Ahlawat get up. Laila hits Meet from behind with a stick. Laila tries to take away Meet Ahlawat but Meet holds Meet Ahlawat's hand. Laila tries to take Meet Ahlawat but she couldn't. Laila takes a stick and starts hitting on Meet's hand. Laila applies pressure on the wounded hand of Meet. Laila separates Meet Ahlawat and Meet. Laila says to Meet that if she confronts Laila she will only feel pain and loss. Laila says to Meet that she lost. Laila takes Meet Ahlawat who is unconscious. Meet sees this and feels helpless.
Episode ends.
Also See: