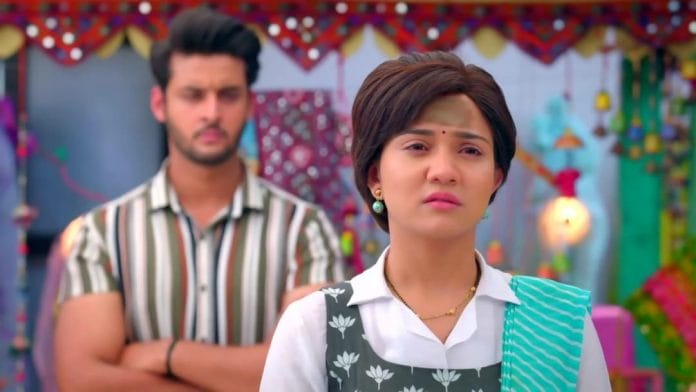 Meet 11th July 2022 Written Update On TellyExpress.com
The episode starts with Meet Ahlawat sprinkling water at Manjiri's face to wake her up. She wakes up and Meet Ahlawat scolds Masoom for bringing Manjiri here. Masoom says she brought her here because it was Manjiri's wish. She didn't have idea Manjiri will get into trouble. Manjiri says she is fine now and some smoke was coming from the AC.
Manjiri goes to wash her face and then Meet Ahlawat notices Manushi and Kunal who are standing behind some clothes to overhear everything. Meet catches them and says surely they are involved in this and they tried to harm Manjiri. Masoom thinks why these two didn't leave the place. Kunal says Meet can't blame Miss Missi, she is a celebrity, she came here for shoot. Meet grabs his collar saying he didn't ask him.
Manushi says why would she do something like this. Manjiri notices Manushi and gets surprised. Manushi feels scared thinking what if it's Meet. Manjiri says she is a big fan of Miss Missi and she follows her make up tutorials on YouTube. She wants to take selfie with her. She hugs Manushi and gets excited.
Meet asks Masoom that he knows that she is in contact with Manushi since one year. Masoom says it's for professional reasons. Nothing else. She is Missi's producer and it's for business only. Meet says hope it remains like that. He calls Manjiri saying she should not praise fake people. Masoom feels relieved thinking now Meet wont doubt her.
Meet drives the car and Manjiri keeps on talking so he turns on the music. She turns it off saying she wants to talk to him so he will stop the car. She threatens to jump from the car so he stops it. She asks him how he came to know she is in danger? He saved her like a hero. Hosiyar calls Meet Ahlawat and reveals that Meet sent spy behind Manjiri to keep eyes on her. But he was worried for her so he rushed to save her immediately after knowing she is in danger.
Manjiri hears that by turning on the speaker mode. She says how can Meet sent spy behind her. She can't accept this as this doubtful attitude will not let her do the job. She will leave. Meet says he did that because she is his responsibility as she is here for his father and until then he will take care of her safety. She feels good to know that he is showing concern to her. He says he is not concerned about her but it's just for his father.
Deep surprises Isha saying his mother agreed for their marriage and she gets overjoyed. She says she won't leave any stone unturned in making his mother happy. She will give her best. He says she is coming to see Isha. Babita gets ready and surprises Raj. She says on this day he proposed her, so she wants to do the same for him today. She offers him rose and gets romantic.
Meet and Manjiri enter their room and feel awkward. Raj and Babita feel shy and Manjiri compliments Babita saying she is looking very young. Babita says Deep's mother agreed for Deep and Isha's marriage. Manjiri starts doing garba out of excitement and Meet, Babita feel nervous seeing Raj's reaction.
Episode ends
Also See: