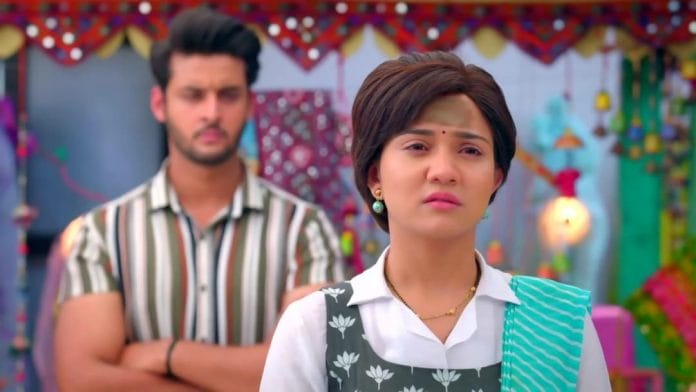 Meet 12th August 2022 Written Update On TellyExpress.com
The episode starts with Meet seeing the ambulance tyre got punctured. She changes the tyre with the ward boy's help and leaves in hurry. She says they have to reach the hospital within ten minutes now. Deep struggles to breathe and Meet Ahlawat worries for him. Deep dies and the doctor informs Meet Ahlawat about that. Meet Ahlawat is left devastated to hear that. Meet reaches Chandigarh hospital and then Raj is taken to the OT for his transplant. Meet holds his hand and reveals her real identity that Manjari is Meet Hooda only. Everyone gets surprised to hear that. Meet tells Raj, his daughter is back and he has to be alright for her sake.
Babita hugs Meet out of joy and says she knew that Manjari is Meet only. She apologises to Meet as she is responsible for her and Meet Ahlawat's separation. Meet says she didn't leave the house because of that, she did all these as Manushi blackmailed her, she adds they have to cope with Manjari for some more days. Meet reveals her son is alive and she is doing this drama to get him back from Manushi. Ahlawats get shocked to know that. Meet tells them the whole story how Manushi kidnapped her child and Masoom helped her. Masoom told her Manushi's truth in fear. Babita says how can Masoom do this to her brother and his wife. She is ashamed to call Masoom her daughter.
Tej asks Meet if Meet Ahlawat has idea she is Meet Hooda? Meet says he doesn't have idea. She says she convinced Manushi with her acting and the latter is ready to give back her child. Today by 4 pm she will get her son back. Babita wishes her best of luck and says they can't wait to see their heir after so long. Meet gets delighted.
Meet Ahlawat reaches Barfi's house and thinks how would he give her the bad news that Deep is not alive. Barfi asks him why he is silent? If he had a fight with Deep and now came here to talk to her to sort things out. Meet Ahlawat hugs her and takes her to the morgue cabin. He removes the cover from Deep's dead body and Barfi is shattered to see her son dead. Meet Ahlawat tries to give her moral support saying Deep is no more but he will fulfil all the responsibilities towards Deep's family on behalf of Deep. He says Deep got hit by a car and died. Barfi sits down and the nurse tells her to sign some papers else they won't get the death certificate. Barfi says she wants her son back.
Doctor tells Ahlawats that Raj is fine and the operation is successful. Babita gets overjoyed and says today Meet not only saved Raj but she will bring the bundle of joy in their family that is her grandson. Meet asks for her blessings and Babita says it will be a memorable day for Meet as she is going to hold her child in her arms for the first time.
Episode ends
Also See: