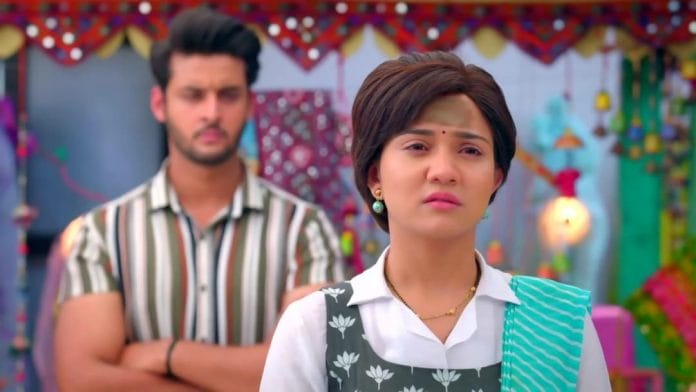 Meet 13th August 2022 Written Update On TellyExpress.com
The episode starts with Meet Ahlawat trying to console Barfi. Barfi cries her heart out and tells Deep to wake up by holding him. She screams in pain and Meet Ahlawat gives support to her. He says Deep used to handle all problems with a smiling face then they should also bid him good bye with the happy memories. Barfi goes out of control and Meet hears her scream from outside. She asks a wardboy what happened and the latter says a mother lost her young son so she is broken. Meet feels bad for her saying she can't imagine how much pain she is feeling right now. Meet calls Popat and asks her to come near the hospital with a cab. Barfi cries holding Deep's dead body and Meet comes towards them. She notices something and stops.
Kunal shows an ad to Manushi of their dream house, he says if they book it now then they will get 10% discount. Its a perfect place with a great view. Manushi tells him to not get overexcited as their main focus should be on Manjari now. After getting Manjari's sign on the power of attorney papers Manushi will have the authority over her and she can buy many properties using Ahlawats' money. Kunal gets happy and tells her to permit him to book the dream house. Meet looks at a baby's picture and gets emotional. She then finds a pen on floor and asks a nurse whose is that. Nurse says it can be of the dead person. She reveals his mother was crying badly for him. Meet says she herself will give the pen to the person's mother. It must be a memorable thing for her. She asks for the address and the nurse says she can get it tomorrow as the internet server is down now.
Meet leaves and Ragini Babita come back home. Sunaina says Raj is stable now. Babita feels delighted and Ragini says they should give the credit to Meet and Babita says now she should just come back safely with her son. Ragini says Masoom betrayed her brother and all of them. She knew that Meet's child is alive since one year but she was silent. Meet Ahlawat left the house and maintained a distance from his family but she was not bothered. Meet suffered because of her and Masoom should get punished for that.
She asks Babita what would she do if Masoom gets punished by Meet and her husband. Babita says she won't stop them but will allow them to punish Masoom. They have the right to do so being parents. Masoom separated them from their baby. Ragini smiles hearing that. Babita says Meet and her husband will confront Masoom when she will be back from Delhi. Now they won't tell anything to Raj as well. Manushi tells Kunal in cab that Meet always chose the right path and helped people, saved many including her but she got a horrible death in return. But Manushi did what she felt is right and now she is successful enough to achieve things in life. Meet calls her to ask where she is. Manushi says her driver took a leave for stupid festival Rakshabandhan. So she is coming in cab. Meet cuts the call and tells Popat that Manushi doesnt value anything except money. Wish she could become an ideal elder sister. Meet reaches the location and hopes that she will get her child back from Manushi. Popat says good things happen to good people so she should not worry.
Episode ends
Also See: