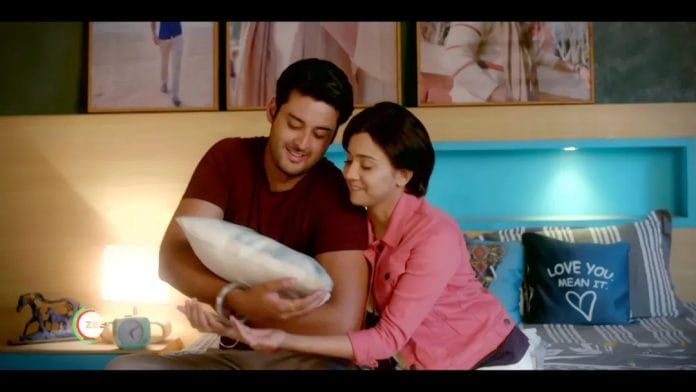 Meet 13th November 2022 Written Update On TellyExpress.com
The episode starts with Laila driving away in a car and Meet following Laila on a bike so that she could reach Meet Ahlawat. Laila stops at an old warehouse. Meet goes after Laila. Ram talks with someone on the phone requesting their help to find Meet Ahlawat. Ragini says to Ram that his encouragement is needed for Raj and Babita. Ram comments on Ragini. Ragini says if he wants to hurt her then he can take a rock and hit it on her head. Ram says then what about the hurt that she gave him. Ragini doesn't answer Ram's question. Ram says now they are staying under one roof and there is nothing more between them. Ram leaves from there.
Laila comes to Meet Ahlawat and sees that he is unconscious. Laila unties Meet Ahlawat. Meet thinks her suspicion is right on track. Laila takes Meet Ahlawat away. Meet sees the room that Meet Ahlawat has been tied.
Ishani dances for a song. Ragini stops the song. Ragini says to Ishani that this house son has been missing and here she is dancing in this house! Ragini asks Ishani if she has no emotions? Ishani says her emotions are over and asks Ragini to tell her, her father's name and she will leave from here. Ram hearing this also asks Ragini to tell Ishani her father's name so that she will be out of the house.
Ragini stays silent.
Meet notices the room is filled with Meet Ahlawat's photos. Meet also notices Meet Ahlawat's watch on the ground and thinks to herself she will not rest until she finds Meet Ahlawat. Babita and Barfi reach the old warehouse. Babita sees Meet in the old warehouse and mistakes Meet for the mysterious girl that is obsessed with Meet Ahlawat. It is shown Barfi has seen Meet following Laila. Barfi calls Laila and warns Laila to be careful as Meet is following her. Laila says Meet will not get anything. Barfi decides to use this chance and takes Babita to the old warehouse.
Ragini writes the name of Ishani's father's name on the application form and gives it to Ishani. Ishani shows the application form to Ram and asks Ram if he wants to know the name of her father. Ram says to Ishani he doesn't need to know who left her on the road.
Babita blames Meet thinking she is the one who kidnapped Meet Ahlawat. Babita asks Meet where is Meet Ahlawat? Meet says the obsessed girl is Neelam and she followed Neelam to come here. Babita says Neelam is in the hospital and asks Meet how can Neelu do this. Meet asks Barfi to tell the truth? Barfi asks Meet what truth and says she knows Meet is after Neelam that's why she brought Babita here. Meet gets shocked hearing this. Meet tries to explain to Babita but Babita doesn't listen to Meet and says she can say whatever she wants infront of Raj.
Laila says to a Goon she hired that he will be with her for the next 24 hrs. The Goon agrees. Laila talks to Meet Ahlawat who is unconscious and says from now on no one is going to come between them. Laila says she already made arrangements so that Meet can't reach them.
Episode ends.