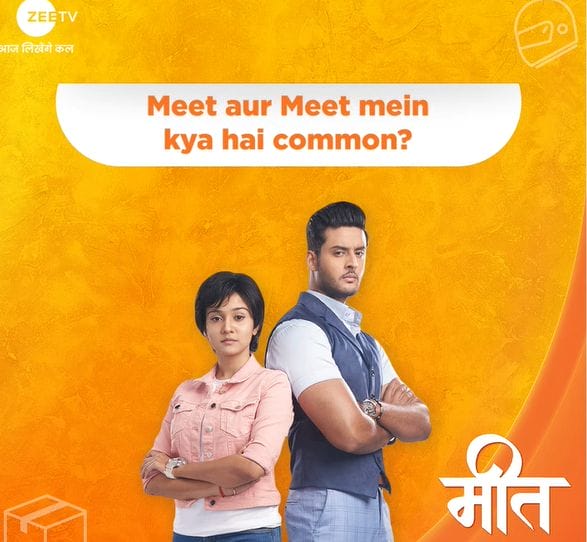 Meet 13th October 2021 Written Update on TellyExpress.com
The episode starts with Meet Ahlawat sees Meet written on Meet hand and he remembers writing it on Manushi's hand and this means both sisters planned this together and she knows that Manushi was not at home that day. Ragini starts Meet to start the next ritual but Meet angrily breaks the stick and leaves from that place to end the rituals and family members tries to stop him but he won't listen. Meet thinks what happened to him suddenly. Masoom asks what you did to my brother? That he left from here.
Meet says she didn't do anything. Raj stops meet and asks Hoshiyar to call Meet but he won't attend the call. Raj sends Hoshiyar to get back Meet to home as we have reception. Babita says their is no reception. Raj asks Ram to send apology message to guest for cancelling the reception and tell them that's it's family emergency. Babita leaves blaming Meet entry is bad. Raj says don't feel bad for their accusations as they are tensed and everything will be fine very soon.
On the way Meet notices his water bottle is empty. Sunaina takes Meet to her room and asks her to change the clothes than Sunaina says never let him leave again and do like what he likes but don't allow him to leave as it's tough to wait for their return and sometimes our intezar won't get ended. Meet says I didn't understand what's my mistake and I can't accept punishment without my mistake. Sunaina leaves in tears saying my life will be in other way if I apologized to him even though it was not my mistake and she leaves from her room. Meet remembers Masoom accusations than she messages to Meet that you're blaming alone and you have to tell me what mistake I did.
Meet Ahlawat stops at restaurant and he receives message from Meet and Manushi, Kunal are present in the same restaurant and they hides their faces with menu seeing Meet Ahlawat. Kunal thinks ts right chance to take drug packet from Meets car and he rushes out telling Manushi that he s going to washroom.
Kunal tries to open the trunk of car than he gets call from the person and he asks why he didn't delivered the pack. Kunal cuts the call saying he will deliver it. Manushi tries to shift her place than Meet dashes with her and he leaves from that place after apologizing to her taking his water bottle. Kunal thinks he have to go to Meet home to collect drugs packet. Manushi thinks today is our reception but he is roaming alone so he may denied to Marry Meet even though Mom offered him.
Babita comes to Meet room and says you're back to your old form. Meet says I have only this dress as in hurry I got these dresses only. Babita says you're not match to my son and you guys trapped us cleverly with horoscope and don't know from when you're Mom and Dadi are planned it. Meet says don't say anything about my Mom and Dadi. Babita offers money to Meet and asks her to leave from her son life taking the money.
Meet Ahlawat returns to home. Raj asks him to never repeat it. Masoom says where you went? I thought you left us like Tej bhai. Raj stops her. Inspector arrives to Meet place and takes the keys saying they have to search his keys. Meet gives them keys. Meet asks where she have to leave. Babita says you have to leave from our place as you're Grahan to my son's happiness so I will definitely remove you from his life and she leaves. Conestable tells to Inspector that they find the packet in car. Inspector identifies them as drug. Kunal observes everything. Inspector says they are arresting Meet for having thr drugs. Babita gets shocked.
Episode ends.
Also Check: