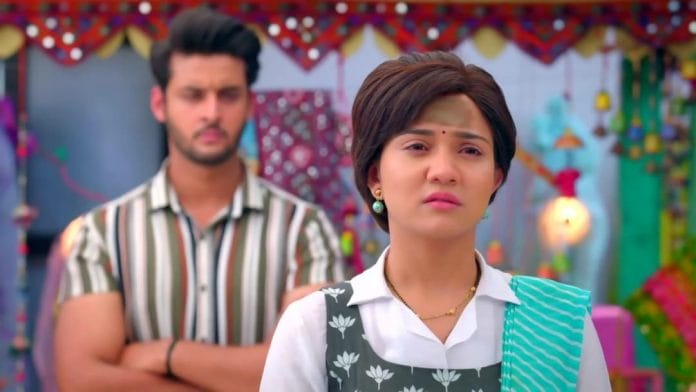 Meet 14th May 2022 Written Update On TellyExpress.com
The episode starts with Meet looking at her husband's photo and she gets emotional recalling his words. Meet Ahlawat hurts himself and Ragini stops him. She says he loves Meet a lot that's why he is hurt after hurting her. Meet Ahlawat says because of Meet, Raj is in jail today. He can't choose Meet over his dad. He says he always followed Raj's footsteps and he can't see him in that state. Ragini says if he respects Raj then why he thinks Raj will support his act. Raj brought back Meet when Babita told her to leave. Raj always supported her then why Meet Ahlawat forgot his father's teachings? Ragini says Meet Ahlawat fought with everyone to fulfil Meet's dream then why he told her to quit her job. It was not expected from him. Meet is hurt because of him. Meet Ahlawat stays silent.
Meet says she can leave everything for her husband's sake but right now she can't quit her job as she has to prove Raj innocent anyhow. She says she can't be weak but she has to be strong. Meet Ahlawat goes to Police station with food for Raj. The constable refuses to take the food from him saying they cant break the rule by giving homemade food to Raj. Meet says Raj can't food outside food. He requests the constable but the latter tells Meet Ahlawat to request Meet Hooda. Meet Ahlawat says he is not going talk to her but if the constable has humanity then he will give the food to Raj. Meet Ahlawat leaves after giving the box. Meet overhears their talk.
Meet feeds Raj homemade food and he asks her that why she is breaking rules by feeding him homemade food. Meet says not just her husband but she also brought food for Raj. She adds she will eat the food which Meet Ahlawat brought so that her husband's efforts dont go to waste. Raj says Meet has a big heart the way she is bearing all the insults and still she is forgiving everyone easily. Meet says why doesn't he tell the truth as she wants to get him released as soon as possible. She asks why Abhay didn't show up in the video if the incident was about his sister. Raj gets worried and she says she will meet Abhay Rana today to interrogate him. Raj tries to stop her but she says he is proving that there's something fishy which she will find out. She leaves to meet Abhay.
Meet Ahlawat talks to the lawyer for Raj's release. Babita asks him to go to Abhay's house as only he can save Raj. Meet reaches Abhay's house and says she wants to interrogate him regarding the pendrive video. Abhay gets surprised and says he will help her. Babita says Abhay saved Meet Ahlawat when he was accused for the flase case. Meet replies but his wife saved him not Abhay. Babita scolds him for taking Meet's name. She adds she forgot about Abhay before but now she will plead before him to save Raj.
Meet asks Abhay that why he tied the driver with rope in the video, what was his plan? Abhay says they just warned the driver but by that time Ashok came and Raj got into a fight with him. Raj shot him in anger. Meet asks then why he kept it a secret for so long? Raj says he was bound to do that as Raj is his sister's husband. Meet says then why he didn't destroy the pendrive and kept it in his house safely? Abhay asks her back how does she know the pendrive was at his place. He warns her to not dig the matter deeply but she should let Raj get the punishment and should serve justice to her father..
Meet Ahlawat says Raj is already famous then Abhay must have idea that he is in jail then why he didn't come to help Raj to get out of jail. Why Babita has to request him? Meet Ahlawat says still he will request Abhay but he believes Raj will get released as he is innocent. He hugs Babita and consoles her. There Abhay stops Meet and says from next time she should come to meet him after taking appointment as he is the Minister. He is not free. Meet thinks theres something Abhay is hiding from her. She decides to learn his truth.
Episode ends
Also See: